Prosoft Engineering has upgraded its Data Rescue 3 data recovery software to run natively as a 64-bit application on Snow Leopard.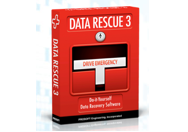 Data Rescue 3 offers a "do-it-yourself" means of recovering data lost from accidental deletion or a failing hard drive. Rather than spend potentially thousands of dollars having your data professionally restored, you can turn to Data Rescue 3 for professional-level tools to bring your data back from the dead.
Prosoft claims that Data Rescue can even work on drives that won't mount—a situation that typically spells the end of a hard drive and all its data.
Now with 64-bit compatibility, Data Rescue can run faster and take full advantage of all of your Mac's memory, which should result in faster scanning and recovery times.
The 64-bit update is free for existing Data Rescue customers, and a fresh install of Data Rescue 3 will run you $99.