Apple announced a slew of new and upcoming products during Wednesday's "Back to the Mac" event: iLife '11, FaceTime for Mac, new MacBook Air models, and Mac OS X Lion. But while these are all great additions to the Mac ecosystem, I think the announcement of the Mac App Store—available for Snow Leopard, according to Apple, within the next 90 days—will turn out to be the biggest news for the typical Mac user.
Don't get me wrong: This is a huge deal for developers. Like the iOS App Store, it gives third-party developers a way to get their software in front of every Mac user, and makes it easier than ever for Mac users to buy and install that software. (It also raises some of the same concerns about Apple's role in, and control of, the third-party software market.) But—and also just like the App Store—for the typical Mac user, these concerns will likely be far outweighed by the benefits provided.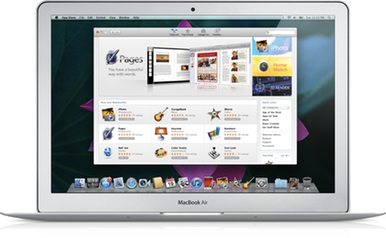 Let's face it: installing and updating software is the worst part of the Mac OS X experience. If you hear about a program you like, you need to find the developer's Website, locate a download link, and download it. If the download is an installer package, you must first unzip the package, then double-click the installer, then go through the installer's steps. If the download is an OS X disk image, the installation process is even more tedious—and, for many users, even more confusing. (Issues relating to installing software from a disk image still dominate inexperienced-user questions in online Mac forums.)
In either case, you also have to hope what you've downloaded is a legitimate piece of software, rather than malware. (This isn't as much of an issue on the Mac as it is for Windows, but it's still a valid concern.)
What about updating software? The Mac platform has made some progress over the past few years thanks to Sparkle, a framework developers can include in their software to make it easier for users to update. Sadly, too few developers actually use it, which means users are left to update many programs the old fashioned way: Manually check for a new version, download it, quit the current version, and then install the update—which, as with the original install, could entail a zipped archive, a disk image, or a new installer package.
Over the years, a number of Websites, such as VersionTracker and MacUpdate, have attempted to make finding and downloading Mac software easier, even offering "premium" versions that included utilities that watched specifically for new versions of installed software and then let you download (and, in the case of MacUpdate, automatically install) those updates. But now that we've been using iOS devices for a while, these services and utilities feel like kludges—workarounds for features that should be built into the OS.
Is it any wonder then, that of all the "normal" (read: non-techie) Mac users I know, only a few regularly update their software, or even install new software?
Yet when it comes to their iPhones and iPads, those same people regularly—you might even say obsessively—download new apps and update their installed apps. Why? Because iOS makes it dead-simple. There's a convenient place to search for—and read reviews of—hundreds of thousands of apps. You purchase and install an app with a single click. The entire process is easy and automatic. You can check for updates for all your installed apps at once, and automatically download and install all those updates, again, with a single click. And you can be pretty confident that whatever you get from the App Store is safe.
Imagine if finding, installing, and updating Mac software was just as easy: You read about a cool new program, so you fire up the Mac App Store, type in the program's name, browse some user reviews, and then click the button to purchase the software. The program is automatically downloaded and installed, without you having to lift another finger. Once a week or so, OS X automatically checks to see if new versions of any of your App Store-purchased software are available; if so, a single click of the Update All button and you're current. It would seem so…amazing—if it weren't for the fact that our iPhones have been doing it for a couple years now.
And here's some further food for thought: What if the Mac App Store also makes it as easy to uninstall software on the Mac as it is on the iPhone? Click a delete button and the program and all its supporting files are gone. That would be a huge step forward for Mac OS X usability.
Now, of course, some of the same concerns users and developers have about the iOS App Store—as well as a number of new concerns—will apply to a Mac App Store. Though unlike with iOS, the Mac App Store won't be the only place to get Mac software. In fact, the same developer will be able to offer some software through the Mac App Store and some the old-fashioned way. (In this respect, the Mac App Store is essentially what many developers have asked Apple to do with the iOS App Store: let them sell "approved" apps through Apple, and other software—including, say, programs that may violate Apple's guidelines—outside the store. And it brings up some interesting possibilities: For example, what if you could configure OS X's Parental Controls so your child could install free Mac App Store apps rated 4+? Or configure the Macs in an office to allow installation of only Mac App Store software on an approved list?) Still, the Mac App Store won't be a panacea for all the challenges Mac developers face.
But despite such concerns, when it comes to the everyday experience of your typical Mac user, the announcement of the Mac App Store—and the fact that it will be available in the next 90 days—just may be the biggest Mac news in quite a while.
Updated 10/20/2010, 10:50pm to correct error about MacUpdate.