During Wednesday's Back to the Mac event, Steve Jobs announced the immediate availability of FaceTime for Mac. The software, which Apple currently calls a beta, lets you video chat with other FaceTime for Mac users, along with FaceTimers using the iPhone 4 or the latest model of iPod touch. Now that the software has been out for a few hours, Macworld has had a chance to play with it a bit.
Calling FaceTime's interface spartan may be generous. The main window—including its title bar—is black, and the left side is filled with your own face, live from your iSight camera. (Worth noting: Apple has apparently rechristened it the FaceTime camera in the just-announced MacBook Air, although the name iSight still shows up in FaceTime on other systems.)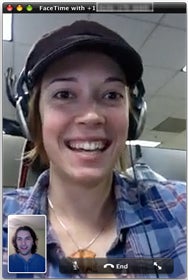 On the right, you'll see a list of your Address Book contacts. Of course, depending on what e-mail addresses you have linked to those contacts—if any—you may not be able to place FaceTime calls to those people right away. Should you wish to add new contacts, or edit existing ones, FaceTime instructs you to launch Address Book and make your updates there. We hope (and expect) that Apple will make this process easier and self-contained within FaceTime by the time the software is final.
Tabs at the bottom of the contact list, which appear to be ripped straight out of iOS, let you switch from your Contacts to Recents (folks you've called or received calls from recently) or Favorites. Marking favorite contacts is a bit kludgy; you click a plus icon, which reveals a list of your contacts—including ones you've already marked as favorites—and then click the name of the person you'd like to add as a favorite.
Once you've successfully created a record in Address Book for your contact's FaceTime account, calling the person within FaceTime itself is painless. Click the name, and FaceTime places the call—complete with the familiar dinging sound that iChat uses when you initiate a video chat. I successfully placed FaceTime calls to various Macworld staffers around the country, from Mac to Mac, Mac to iPhone 4, and Mac to iPod touch.
When your call connects—again, signalled with a tone familiar to iChat video chatters—the black chrome of the FaceTime window fades away, along with your contact list. You're left with a live video box that looks just like QuickTime X's movie player. If you move your mouse over the window, its title bar reappears, along with controls for muting or ending the call, as well as entering full-screen mode.
By default, FaceTime for Mac limits your video image to iPhone-esque portrait dimensions (presumably, so that you'll fit just right on your friends' iPhone 4 or iPod touch screens). It feels a little odd when you're chatting Mac to Mac, though. But using the Video menu, you can switch to Landscape mode, which shows more. As Steve Jobs demonstrated at the event, if your buddy switches between Landscape and Portrait mode as you chat, the video does too.
I did notice an interesting quirk of FaceTime's video rotation. When you initiate a Mac to Mac call, if you rotate your video's orientation, it rotates your buddy's video, too. (That is, when I switch to landscape, I force the other party to switch to landscape, too.) If, however, your buddy then adjusts his video orientation back to portrait again, you can then chat in mixed modes. So whomever switches video orientation first controls both participants' video—until or unless the other video chatter adjusts his own.
If you're planning to call people on their iOS devices, make sure they're running iOS 4.1 or later. Attempts to call someone still running iOS 4.0 yielded an error indicating that your contact needed to upgrade to the latest version of FaceTime.
iChat devotees may miss some of that app's video-conferencing nuances in FaceTime. You can't share your screen or photos, for example. Of course, most of those niceties wouldn't make as much sense when you're FaceTiming with iPhone users, but the omission will likely seem more glaring should the iPad ever score a FaceTime camera of its own.
Note that whenever FaceTime is open, your camera is turned on. It makes the app a great mirror, but it also means that as long as the software is running, you can't place a Skype or iChat video call, or use PhotoBooth—the other software will alert you that the camera is already in use. Fortunately, you can quit FaceTime and still receive FaceTime calls. When a call comes in, the app launches and prompts you to accept or reject it. To hide from FaceTime calls completely, you must switch FaceTime off in the software's preferences. So while I found it annoying that closing the FaceTime window also quit the software, it's not a huge deal—folks can still call you.
You can't, however, call yourself. When I tried to call from my iPod touch to my Mac (and vice-versa), both of which are on my Apple account, FaceTime told me that I was busy. Families that share Apple accounts and want to be able to FaceTime among devices will need to create new accounts for that purpose, unless Apple lifts this restriction.
On the interface side, FaceTime for Mac seems deserving of its beta badge. Managing contacts lacks polish, and the software seems to offer the absolute minimum functionality possible for video chatting. That said, video calls themselves worked great in my early testing. My calls went through without any configuration worries, and the video quality ranged from fair to great.