When the iPad launched last spring, game publisher Chillingo was geared up to take advantage of the new platform: it launched 14 iPad-friendly titles on one day. That early investment is paying off—Electronic Arts is buying the UK-based company for a reported $20 million in cash and additional incentives.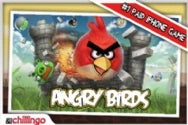 In fact, EA even cited Chillingo's success with Apple's iOS devices when it announced the purchase Wednesday. "By acquiring Chillingo, EA Mobile is increasing its market leadership on the Apple platform as well as reaffirming its position as the world's leading wireless entertainment publisher," EA spokeswoman Holly Rockwood said in a statement CNNMoney.com.
Chillingo's games include the popular $1 Angry Birds and Cut the Rope games. The former game—which features, well, angry birds taking revenge on pigs for stolen eggs—was developed by Finland-based Rovio, which retains rights to any sequels.
While ZeptoLab, creator of Cut the Rope, was publicly silent about the transaction, Rovio did comment on the deal. "We are not worried, we call our own shots," the company said through its Twitter account Wednesday afternoon, part of a flurry of posts reassuring fans of the its continued independence. "And we will continue doing the best games we can."
Chillingo's work with independent developers, however, was part of the attraction for EA.
"This acquisition will combine Chillingo's expertise in cultivating the ideas of independent developers with EA's global mobile publishing reach," EA told the Wall Street Journal''s All Things Digital blog.
Wednesday's announcement follows EA's $400 million purchase of social game developer Playfish last fall.