Aye Matey! Put your sails up, adjust your parrot on your shoulder, and get ready to set sail in Lil' Pirates, a new pirate-themed social game coming to the iPhone and iPod touch later this month.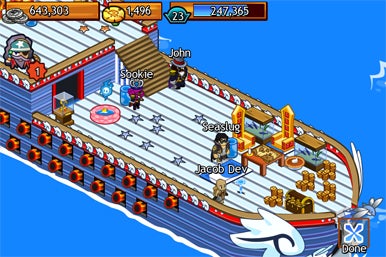 Developed by IUGO Mobile Entertainment and published by Capcom, Lil' Pirates will put you into the shoes of a pirate ship captain. From an overhead, omnipresent perspective, you will control both your ship and its crew. In a massive virtual world, you will take your crew on missions to collect treasures, fight various enemies, and raid other pirates. When you've gathered enough fine booty and loot, you will unlock some of the large collection of minigames found in Lil' Pirates. These include sword balancing tricks and treasure-burying minigames. (The longer you bury a treasure, the more value it gains—but watch out for thieves!) As a master loot collector, you will be able to take part in booty burials, as well as cannon attacks on other pirate ships. All of this collecting and pillaging will allow you to customize your ship and crew.
At its launch, Lil' Pirates will offer more than 100 premium content and gear items that can be used to customize ships and crew members. With the specialty items, you will be able to make your ship look like a ghostly galleon, a pink gilded princess, or a multi-masted warship of destruction. You will also be able to dress your crew members in different types of outfits and gear. If you grow tired of the game's built-in items, you will be able to buy rarer items online (using real-world cash).
Though the game's focus is on social connectivity, Lil' Pirates will have both online and offline functionality. Online play will expose you to a massive world that will let you trade with, raid or attack other players from around the world. While online, you will be able to recruit your Facebook friend's avatars to your ship as crew members. You can then assign them to specific missions based on their abilities and play mini-games or bribe them with root beer to re-energize them. In contrast, offline play will still offer an expansive virtual world, but without the social aspect. Obviously, if you're playing Lil' Pirates, it's more fun to have a crew with your friends—so playing online is a must.
Lil' Pirates will be free to play and utilize the "freemium" model that companies like Ngmoco pioneered. Since Apple is currently reviewing the game for inclusion on the App Store, no official release date has been set. Look for Lil' Pirates to set sail on your iOS device in the coming weeks.