iPhoto '11, Apple's latest version of its popular photo editing and management software, doesn't introduce dramatic new features, like iPhoto '09 did with Faces and Places. But what it does debut are some well designed new features and inspired integrations.
Before you can use iPhoto '11 ($49, part of iLife '11) you'll have to upgrade your existing iPhoto library—this happens the first time you launch the new version. Once it has been made compatible, you'll no longer be able to access your photo library in previous versions of iPhoto. If you have a particularly sizable iPhoto library, pencil in some wait-time—iPhoto says the process can take up to an hour depending on the number of images.
Go full screen
Apple has added a handsome full screen mode to iPhoto '11. If you click the full screen button in the bottom left corner of the application, your Mac's menu bar, dock, and entire desktop disappear to make room for iPhoto.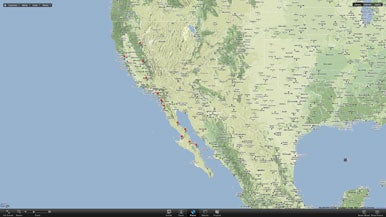 What makes the full screen mode noteworthy is that it's more than just larger version of the usual iPhoto interface. It has been tweaked so that users get the most out of the expanded space. Controls and clutter are kept to a minimum with a simplified iPhoto menu bar that stretches across the bottom of the screen. In the middle are buttons for Events, Faces, Places, Albums, and Projects views. On the right side of the menu bar is a secondary set of options that changes according to which view you are in. The left side of the menu bar has zoom and search options in every mode but Projects.
You can use all of the usual iPhoto features in full screen mode, including edit, design, and sharing tools. Whether you're working on a 27-inch iMac or the new 11-inch MacBook Air, all iPhoto users will appreciate being able to take advantage of every last inch of precious screen real estate.
Improved sharing features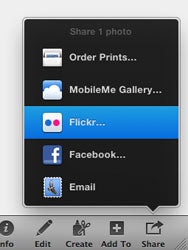 Apple recognizes that what people really want to do with their photos is show them off. That's why iPhoto '11 has integrated a few new sharing features directly into the application, cutting down on trips to Web browsers and e-mail applications.
Clicking the Share button in the bottom right corner of the screen gives you options to order prints; upload to your MobileMe, Flickr, or Facebook galleries; or send photos in an e-mail. If you select Email, you can compose and send a message directly in the iPhoto application. iPhoto gives you eight designs to pick from—you have to choose one since plain doesn't seem to be an option.
Once you're linked to an online account, you can upload photos directly from iPhoto. The account will also appear as an item under the Web section on iPhoto's navigation menu. One cool part about this synchronization is that you can click the account to view all the images located in the album right there in iPhoto. Unfortunately, viewing is about all you can do—images downloaded from online galleries can't be edited, put in albums or slideshows, or used to create projects. You can re-share them in an e-mail, however.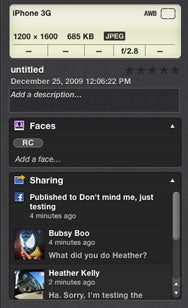 Share to your Facebook account from iPhoto, and you'll notice that a handful of Facebook's tools have made it into iPhoto's interface. You can post a photo as your profile image, use it to start a new album, or post it on your wall or a friend's wall. You get to choose limited privacy settings for an image (there's no option for any custom groups you may have set up, just Friends, Friends Of Friends, or Everybody). Hit the Info button (i) for an uploaded image to bring up more fun Facebook features, such as face tagging and a stream of the Facebook comments for that photo (you can't comment back from within iPhoto, unfortunately).
These options only work for photos you've uploaded from iPhoto to Facebook. Images downloaded from Facebook have the same limitations as other Web galleries, and no tagging or comment-viewing features.
Create quality final products
iPhoto '11 has pumped up the slideshow tool with new themes and improved animations and effects. The two Mobile themes dangle your photos from strings and swing them about, and the Places theme turns your vacation into a gorgeously mapped, animated journey.
If you'd rather turn your photos into old school paper products, iPhoto has a few new tricks up its sleeve in the projects area too. You can design and order photo books or cards, but calendars aren't currently an available option (although Apple plans to add calendars back in the near future).
The preview stage of the books editor has a cover flow-esque browser of 18 themes you can flip through, a line of clickable color swatches on the right, and book size options on the left. Once you find the theme you like best, click Create to generate an editable version of your book. (You can switch the theme later, but any custom formatting might get lost.) You'll notice that iPhoto has already done a first, smart pass at the design, favoring images with high ratings, zooming in on detected faces, and grouping shots according to the date they were taken.
Each iPhoto book is fairly customizable. You can change the number of images on a page (between one and four); insert a map, text page, blank page, or two-page spread; and change a page's background. For each individual image, you can choose a border, add a filter (B&W, Sepia, or Antique) or open it in the full iPhoto editor.
Designing a photo card in iPhoto is similar to designing a book. You get the same layout for choosing the theme you want. At the top of the page are three card options—Letterpress, Folded, or Flat—and arrows for flipping to specific theme categories, such as birthday or wedding. Letterpress cards are a beautiful new addition iPhoto. The cards, which cost $3 each, are available in one of 15 themes. The templated (and unchangeable) designs are letterpressed, and your additional image and text are added using traditional printing methods.
We'll have more to say about iPhoto '11—and the rest of the iLife '11 suite—in the coming days when we post our full review of the update.