Wednesday was a whirlwind. The amount of Mac stuff that fell out of the sky was remarkable: A tease of a new version of OS X, a new Mac app store, iLife '11, a public beta of FaceTime for Mac, and two new MacBook Air models. I'm still trying to process it all. My coping strategy: playing around with the new 11-inch MacBook Air, the smallest Mac laptop Apple's made since the days of the 12-inch PowerBook.
I love small Mac laptops. The smaller, the better. That's why I embraced the 12-inch PowerBook (and before it, the iBook). But the 11-inch MacBook Air puts that venerated system to shame. It's got roughly the same width and depth as the paragon of tiny Mac laptops (the 11-inch Air is almost an inch wider, but is an inch less deep), but of course the Air is also only seven-tenths of an inch thick at its thickest point, while the old PowerBook was a full half-inch thicker. And that old standard was twice as heavy (at 4.6 pounds, compared with the 11-inch Air's 2.3 pounds).
Suffice it to say, there's a new Mac laptop that reigns supreme as the champion of smallness. But how does it measure up? Like I said, Wednesday: a whirlwind. But when I wasn't watching a nailbiting baseball playoff game I tried to use the 11-inch MacBook Air. I've got some first impressions, though keep in mind there is much more to be said about this product (and its 13-inch big brother), much of which will appear in our full, final review, along with complete lab testing of the product.
In the meantime, then, here's a first look at the 11-inch MacBook Air.
Physical characteristics
Out of context you wouldn't notice much different with the new Air. It's a modern Apple laptop, all aluminum unibody and white Apple logo. But get a sense of scale and you realize, this thing's not much bigger than an iPad. The biggest cosmetic difference between the Air and most other current Mac laptops is the absence of the full glass covering and black bezel on the display of the MacBook Pro models (bar the high-end MacBook Pros of users who have exercised their option for an anti-glare screen); instead, it's a silver version of the white bezel on the MacBook. In other words, the same look the MacBook Air models have had since day one.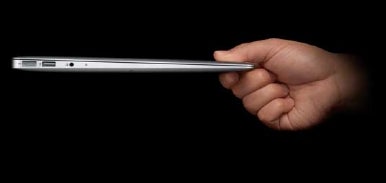 The original Air models had their ports (what few there were) hidden behind a little flip-down door; with the new flat-sided Air models, that concept's history. And instead of one meager USB port, there are now two! One on each side. On the left side of the 11-inch Air, there's a MagSafe power port on one side of the USB port and a headphone jack on the other. The 11-inch model lacks the SD card-reader slot of the 13-inch model. (Bonus feature: These new Airs will detect and use the microphone that comes along with your headphones, if it's a set you also use on an iPhone. Other MacBook models did that, but the Air didn't.) Next to the USB port on the right side of the Air, there's a Mini DisplayPort. The Air supports external displays with resolutions up to 2560-by-1600 pixels.
As for the 11.6-inch display itself, it's a bright LED-backlit color display with 1366 horizontal pixels and 768 vertical ones. In other words, it's the 16:9 aspect ratio version of a 1024-by-768 pixel display. If that seems a little tight, well, it is. The Mac mini in my closet at home is attached to a 1024-by-768 pixel display, and it's sometimes painfully obvious that software is not really designed for screens of that height. (Pro tip: Move your dock from the bottom to the side or turn on Hiding immediately.) However, most modern Mac software has been designed with widescreen aspect ratios in mind, and the extra width is what keeps the display from not feeling cramped.
Also, keep in mind that this new display is packing all those pixels into an 11.6-diagonal display space. That means it's got a resolution of roughly 135 pixels per inch, comparable to the iPad or the high-resolution options offered on MacBook Pro models, and a whole lot more than you'll find on a 27-inch iMac (109 ppi) or a MacBook (113 ppi). Because the Mac OS X interface isn't resolution independent, the result is that everything on the MacBook Air's screen seems a little bit smaller than it does on most other Macs. Coming from a previous-model MacBook Air with a much more low-resolution screen, I found myself adjusting my default fonts to be larger and pressing Command-plus in Safari to blow up Web pages.
A lot of people have asked me about the keyboard on the 11-inch Air, and I'm sorry to report that the answer is going to be pretty boring—but in a good way. This is a MacBook keyboard. It's just like the one found in the previous Air, in the MacBook, in the MacBook Pro, even in Apple's current-model USB and Bluetooth external keyboards. You know the one. It has the exact same feel. (Wait, did I say this was boring? It's actually really exciting if you've used a PC netbook with a nigh-unusable mini keyboard. Those things are terrible, and Apple has quite rightly refused to compromise on keyboard size.)
What Apple has done is reduce the space around the sides of the keyboard, in order to shave some width off the laptop. It's also reduced the height of the top row of keys (the function keys, plus the escape key and the new power button, which now just looks like a regular key and is located at the top right corner of the keyboard). Keyboard backlighting appears to be a thing of the past, as well, which makes me a little sad, even though I do know where all the keys are at any given time.
The big change, at least compared to the previous MacBook Air models, is that the new Airs have finally adapted the glass-trackpad technology that was added to the MacBook Pro two years ago. Once again, though, the story's a bit dull: It looks, feels, and works just like you'd expect. Though the Air is only .11 inches thick at the same edge that contains the trackpad, the trackpad still depresses with a satisfying click.
Finally, one of the lamest features of the MacBook Air was its single mono speaker stuck under the right side of the keyboard. Good news, everyone: The new Air has stereo speakers. They're never going to win any awards, but they sound vastly better than the old Air's speakers.
Speed and such
After just a few hours using the 11-inch MacBook Air, it's really hard to render judgments on how fast it really is. I will say that despite the fact that the model I'm using is powered by a 1.4GHz Intel Core 2 Duo processor, the laptop felt pretty responsive. The fact is, basic tasks like Web surfing and writing are not going to tax any modern processor. The addition of the Nvidia GeForce 320M graphics processor certainly helps keep things moving.
The real nitty-gritty results are going to have to wait for the Macworld Lab tests. But if you're impatient, let me tell you what we're going to find: the Air is going to be much slower than other Mac systems. If you want to edit video or multitrack audio on this little laptop, you will struggle with speed issues. That's just one of the trade-offs you have to make when you switch to a small laptop, and the trade-offs are even greater with this tiny 11-inch model.
I did try to watch some video on this Air—typically a major MacBook Air bugaboo. I was able to stream an episode of Terriers from Hulu without incident. The episode played without getting all jumpy and dropping frames (a typical symptom of an overheated and struggling MacBook Air in the past). The Air definitely heated up when the video was playing, and its fan kicked in—though honestly, I had to almost place my ear against the back hinge before I could actually hear it. Playing H.264 video was much smoother than I've experienced on prior Air models as well—again, presumably because of that Nvidia graphics processor.
Apple is making a big deal about saying that these new MacBook Airs have "instant on" technology. I haven't had a chance to do a lot of testing, but it seems that what the company is talking about is a new power-saving mode. After it's asleep for a while, the laptop switches into a super power-saving standby mode that lets the battery survive for up to 30 days. But when you open the laptop back up, it doesn't show you a progress bar while it loads stuff—it just snaps back to life. Or so they say. I've been too busy actually using it to figure out all these permutations. Stay tuned.
More to come
There's a lot more I want to try out with the 11- and 13-inch MacBook Air models. For instance, I can't wait to get this 11-inch model on the bus I ride to and from work every day, to see if it's more comfortable to use in a really tight space. And of course, Macworld Lab is on the case of speed-testing these guys as well.
So watch this space for much more about the MacBook Air. In the meantime, if there are other things you'd like to know, or think we should investigate for our full review, please let us know in the Macworld.com forum thread attached to this article.
11.6-inch MacBook Air/1.4GHz (128 GB)