GarageBand ranks among the three iLife applications that matter most to Apple. After all, the musical member of Apple's suite of creative applications joined iPhoto and iMovie in rating a mention during this week's Back to the Mac event. And for good reason—while the latest version of GarageBand brings no new podcasting features, it's more musical than ever thanks to an expanded group of keyboard and guitar lessons, additional modeled guitar amps and effects, a "How Did I Play?" feature that checks and scores the accuracy of your keyboard and guitar playing, and two features brought over from Logic and Logic Express—Flex Time and Groove Matching—that let you easily adjust timing.
Taking it from the top
Those familiar with GarageBand '09 needn't fear that they'll be presented with a wildly different interface. In fact when you launch the latest version of GarageBand, it looks identical to the previous version. The Project screen for each version is exactly the same, containing the same New Project, Learn to Play, Lesson Store, Magic GarageBand, iPhone Ringtone, and Recent Projects listings. Select New Project and you see the familiar Piano, Electric Guitar, Voice, Loops, Keyboard Collection, Acoustic Instrument, Songwriting, Podcast, and Movie entries in the main part of the screen.
The Learn to Play project has been reorganized to include Guitar Lessons, Piano Lessons, and Artists Lessons tabs. Select one of these tabs to view the lessons in a list below. When you choose Guitar Lessons you see a new entry—Chord Trainer. Select it and GarageBand consumes your entire screen—much as it does when a lesson appears—and displays a guitar fretboard with chord symbols above. Your job is to play the chords presented to you. GarageBand "listens" to your guitar either through the audio interface it's plugged into or, if you're playing an acoustic guitar, through a microphone connected to your Mac. When you get a chord right, it turns green, a check mark appears next to it, and you move to the next chord. You can choose to practice major open chords, minor open chords, major barre chords, and minor barre chords.
On this same screen you'll find a Glossary entry. Click it and you find musical terms organized into Guitar, Piano, and General categories. Entries include such concepts as articulations, picking and strumming, pedaling, hand position and posture, chord numbers, and scales. Click a term and you see a definition, often accompanied by a video clip taken from one of the lessons.
The Lesson Store is also unchanged. Check the store with either GarageBand '09 or '11 and you'll see the same group of lessons. Likewise, the Magic GarageBand and iPhone Ringtone projects are identical to GarageBand '09's.
Working for change
Where you see differences emerge with GarageBand '11 is in the working environments. Open a new Piano project, for example, and you see that items in the Tracks list are less cluttered. There's no longer a Record Enable button because all you need to do to make a track ready for recording is select it. (This is a welcome change as, in the past, it was easy to select a track—thinking you were ready to record to it—only to be told that you must first record enable the track.) Similarly, in GarageBand '11, the Track Lock icon is hidden by default (you can turn it on by choosing Track -> Show Track Lock). When you add a Real Instrument (digital audio) track, you have the option to show or hide a Monitoring button. When this button is present and switched on, you can hear what you're playing into that track—the output from a synthesizer, for example. Guitar tracks also have a Monitoring button, though it's always present.
The controls at the bottom of the window have been rearranged. The Go to the Beginning button is now in the third position rather than the first in the play controls (which takes some getting used to) and the Record button has been moved to the far right side of these controls. The Loop button has been shifted to the right of the LCD, making it easier to find, and a Metronome On/Off button sits next to it. The LCD has the same viewing options as before—Time, Measures, Tuner, and Project. The Media Browser also has the same options—Audio, Photos, and Movies.
Flexibly groovy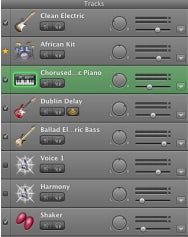 GarageBand '11 inherits two very useful features from Apple's professional digital audio workstation (DAW) applications, Logic and Logic Express—Flex Time and Groove Matching. Flex Time lets you easily move digital audio snippets—a guitar chord, drum hit, or snatch of vocals, for example—in time. So, for instance, if a recorded kick drum hits a little too much before the beat, you can select that one thump and move it later in time. Similarly, if you think a vocalist's performance sounds better when she starts on an off-beat rather than on the beat, you can shift that too. Additionally, you can select a bit of audio and stretch or compress it. So, if the rhythm guitar player failed to let the final chord ring out and instead dampened it after a single beat, you can stretch it so that it ends with the rest of the band.
Groove Matching is a way to direct selected tracks to follow the timing of a specific track. If, for instance, everyone in the band but the drummer is drunk (or the drummer's so drunk that you've substituted a GarageBand loop) and the band's timing is therefore a little too liberal, you can designate the drum track as the Groove Track—the one that has it right. Then select the other tracks that you want to follow the Groove Track. With a click, the band sounds like it's reasonably sober and able to play in time.
It goes to 11
Create a new Guitar track, click the Info button at the bottom right of the GarageBand window, and you'll discover more guitar amps and effects. GarageBand '09 had 5 amps and 10 stomp boxes. GarageBand '11 has 12 amps and 15 stomp boxes. The additional amps include the Stadium Stack Amp, Brownface Combo Amp, British Blues Combo Amp, Large Tweed Amp, Octane Stack Amp, Studio Combo Amp, and Sunshine Stack Amp. The new stomp boxes are Hi Drive (distortion), Rawk (overdrive), Heavenly Chorus (chorus), Wah (wah wah), and Candy Fuzz (fuzz).
The latest iteration of GarageBand also includes a "How Did I Play?" feature, which works with both GarageBand's guitar and piano lessons. To use it, launch a lesson and click on the Play entry that appears in the menu on the left side of the screen. A screen appears that contains the lesson you're supposed to play. You can click the Play button to listen to your instructor, Tim, play the piece. When you're ready to match your wits against the score, click the Record button. You'll hear a metronome count-off and then you start playing. Notes briefly turn green when you play them correctly. Incorrect notes appear in red. A measure adopts a pink hue when there's a serious mistake and yellow when you've made a lesser mistake—played the timing of a triplet incorrectly, for example. When you finish the piece you see a percentage score in the lower left corner. Along the bottom of the screen is a bar that shows your overall success. Green portions are measures you've played correctly and those in red contain mistakes.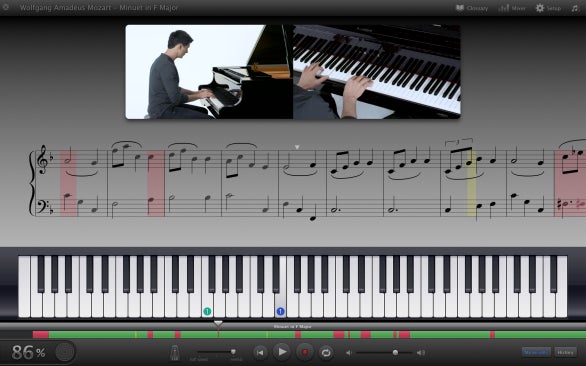 This screen also includes a tempo slider that you can use to slow down the lesson. Even when you've slowed down a piece or lesson, you can use the How Did I Play feature. You can't, however, play just the right or left hand of a piano piece. If you play with just one hand, the missing notes are counted as mistakes. That doesn't mean you can't (or shouldn't) practice hands-alone with the lesson, only that you should do so when the piece is simply playing back rather than when you've invoked How Did I Play.
I've spent just a few hours with GarageBand '11, but I like what I've seen so far. I intend to limber up my fingers and give it a more thorough audition. Look for my review soon.