Macworld has already opined on why the Mac App Store was the biggest news from Apple's Back to the Mac event on Wednesday, especially for developers. It should come as no surprise then that Firemint, developers of the popular Flight Control game for iPhone and iPad, wasted no time in announcing its intent to set up shop in the Mac App Store.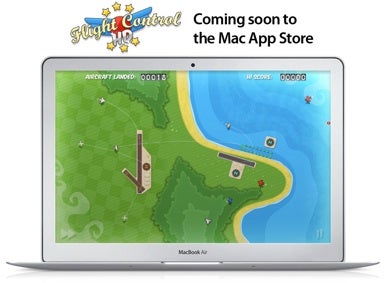 On its Twitter account, the Australian game maker announced its plans to launch Flight Control in the new Mac App Store. The company even posted a basic product page with a single screenshot at its site.
Though it is sparse on details for now, the page claims that the Flight Control screenshot—which Firemint edited onto a photo of an 11-inch MacBook Air—is actually from the Mac version of the game.
As MacRumors notes, Flight Control is among a handful of games that started on iOS, but eventually became so popular that they were ported to other platforms like the PlayStation Move and Nintendo DSi. As a game that involves drawing flight paths with one's finger to help planes avoid collision, however, the format may seem odd to play on a Mac without being able to draw directly on the display.
A release date for Flight Control HD for the Mac has not been set, in part because the game is still in development and the Mac App Store is scheduled to open within 90 days.