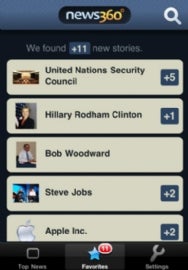 Moscow-based News360 announced Thursday the launch of its Google News-style aggregation app that utilizes the iPhone's GPS function to deliver local headlines, no matter where you roam.
The new app provides a "personalized reading experience" by tracking users' locations and reading patterns to offer news stories culled from more than 10,000 online sources. News360 presents the headlines either as a list or as a slideshow of headlines that readers can swipe through; users can read the first couple of paragraphs or click to view full articles in the in-app browser.
Users can further shape their own reading experiences by marking topics and news sources as "favorites" within the app.
The app is free and is compatible with any iPhone, iPad or iPod Touch running iOS 3.0 or later.
Note: When you purchase something after clicking links in our articles, we may earn a small commission. Read our affiliate link policy for more details.