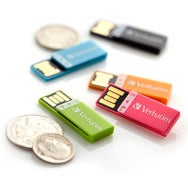 USB flash drives come in all kinds of shapes and sizes—tiny slivers, key-shaped, coins, even as rubber duckies. If you ever wanted a USB flash drive that can double as a paper clip, then your wish came true on Tuesday. Verbatim has announced the $20 Store 'n' Go Clip-it USB flash drive, which can do double duty as a paper clip.
Now, with the ongoing effort towards a paperless office, why would you need a flash drive that can act as a paper clip? There are several fields where paper use has been reduced but still necessary—law offices, real estate, accounting, just to name a few. For example, if you can present a package of printed photos, you can save the digital copies to the Store 'n' Go Clip-it and clip the drive to the package. It makes for a tidy presentation.
The Store 'n' Go Clip-it is available in 4GB capacity and in black, blue, green, orange, and pink. Verbatim says the drive will be available in December.
Store 'n' Go Clip-it 4GB green
Store 'n' Go Clip-it 4GB black
Store 'n' Go Clip-it pink
Store 'n' Go Clip-it 4GB orange
Store 'n' Go Clip-it 4GB blue