Toshl is a free mobile expense manager that syncs with an online service for backup and online viewing. (A "Pro" account that allows online editing, extra graphs, and additional export formats is available for $20 a year.) While Toshl has a free sync service, flaws, odd interface choices, and omissions make it a flawed choice.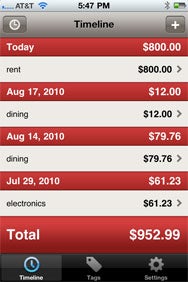 Toshl's records are simple, consisting of amount, date, tags, and description. Different views based on date are available for filtering. There's a Last 30 Days view, All Time view, and another view for specific months.
The tags are the primary facility for identifying how money is being spent. (The Website's graphs are geared off them.) When adding new entries, they can be selected by either choosing from a complete list or by tapping on tag buttons. The tags are also a major source of bugs during my testing.
First, in the tag view, a tag used only in a previous month was visible in the 30-day view (showing a correct total of $0); it completely disappeared in the all-time view which should show the entry. I found a second bug when filling in a new entry—the first tag button I tapped was added to the list and disappear (as expected) but subsequent tags added to the list remained available as buttons. A user can keep tapping that button and add that tag as many times as desired to the list (which is not a correct behavior).
Toshl misses out on the opportunity to capitalize on the iPhone's camera. (Several app store offerings, for example, let you use the phone's camera to scan receipts, saving data entry times.) The app also makes an odd choice on its input screen by opting for the typical keyboard complete with two rows of symbols that save for the period, are completely inapplicable. The keypad interface normally used for PINs and phone dialing would have made much more sense.
Toshl has a lot of promise with its interface. With some bug fixes and a few feature additions, it could be a worthwhile addition to your iOS device in the future.
[Derik DeLong is a blogger and software engineer.]