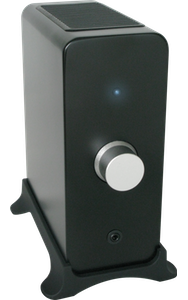 Audio vendor Audioengine on Thursday announced the N22 Premium Desktop Audio Amplifier, a compact, two-channel amplifier for use in a high-quality desktop or bookshelf stereo system.
The N22's satin-black wood cabinet is only 7 inches tall, 5.5 inches deep, and 2.75 inches wide (4 inches wide at the base), making it easy to fit on a desk or shelf. The Class A/B amplifier provides 22 Watts per channel and is designed to drive compact passive speakers such as the company's own P4. The N22 features two audio inputs—one stereo minijack and one pair (left/right) of RCA jacks—as well as a power-only USB port for charging an iPod or iPhone or for connecting the company's W1 Premium Wireless Audio Adapter. (The N22 does not support USB audio.) The back of the N22 also hosts variable-level preamp outputs, as well as gold-plated 5-way binding posts for connecting speakers.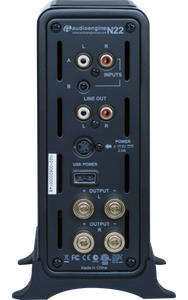 According to the company, the N22 also sports a high-quality, analog volume knob and a high-performance headphone output (using the Burr-Brown/TI OPA2134 op-amp) designed for higher-end headphones. The amplifier also goes into a power-saving idle mode after a period of inactivity. Audioengine includes speaker wire, a 1/8-inch miniplug-to-miniplug audio cable, a set of RCA audio cables, an external (auto-switching, international) power supply, and cloth carrying bags for the amplifier and its accessories.
The $199 N22 is available for order immediately from the Audioengine Website.
Audioengine N22 Premium Desktop Audio Amplifier
Price When Reviewed:
$199