Learning to play a song by ear can be tricky, but thanks to the miracles of modern audio technology, the ability to slow down a song you want to learn—without affecting its pitch—is available in most professional audio apps. For the budget-minded consumer, there's Capo, an audio app by SuperMegaUltraGroovy that lets you slow down and loop parts of songs for easy learning—now, this powerful audio tool is also available for your iPhone.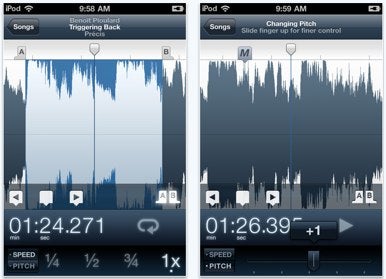 Capo for iPhone takes advantage of iOS 4's ability to tap into your iPhone's music collection, letting you easily select songs to load into the app. The app provides the core tools available in the desktop version, including the ability to adjust a song's pitch, speed up or slow down sections of a song, and mark and loop important phrases.
Considering the powerful audio tools Capo offers, it could prove to be a valuable resource for the mobile musician—but at $20, it's not exactly bargain bin priced.
While few iPhone apps can match Capo's power and flexibility, those interested in slowing audio down on a Mac rather than on an iPhone will soon have an appealing alternative to the $50 desktop version of Capo. The newly announced GarageBand '11 will feature Apple's powerful Flex Time tool, which gives you essentially the same time-stretching capability you get in Capo.