For whatever reason, this week's round up features a number of cases with wildlife-evoking names. From the tough-as-nails Armadillo case, to the light and artsy Dragonfly—even the humble leaf gets an iPhone case named after it. It would seem that case manufacturers are catching on to the green craze, using natural imagery to sell (mostly) plastic products. Do the cases live up to their animalistic names? Read on and decide for yourself.
Armadillo Case
The formidable Armadillo iPhone 4 case ($49) provides your iPhone with industrial-strength protection. The case gives you access to all of your iPhone's controls, and boasts a large opening at its base to accommodate various aftermarket dock-connector accessories. The case easily slides on and off, and its rugged, aluminum design offers a unique aesthetic.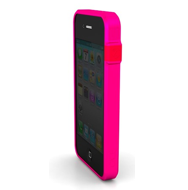 Caze
Hong Kong company Caze's ThinEdge frame case ($23) for iPhone 4 is a rigid-plastic "bumper" case that offers sleek, form-fitting protection. A front-and-back film set is provided to protect your phone's faces from scratches and smudges. Living up to its name, the ThinEdge adds just a millimeter in thickness to each side of the iPhone 4, so bulkiness should hardly be an issue. The case also comes with a wallet-size stand for easy video viewing. The ThinEdge comes in 4 colors and begins shipping October 28th.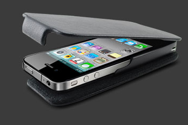 Dexim
Dexim's Supercharged Leather Power Case ($79) doubles as a protective leather case and a portable power solution, with a built-in 2000mAh Lithium Polymer Battery that extends talk time up to eight hours, video and game time up to 15 hours, or audio playing time up to 60 hours.
DragonFly
DragonFly makes shiny, artsy cases that offer stylish protection. The company has a wide variety of cases that range from the subtle and understated to the loud and avant-garde. The company takes a philanthropic business stance, donating a portion of each purchase to Roots of Peace, a non-profit organization that replaces land mines worldwide with groves of trees.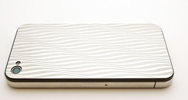 Leaf
The $30 Leaf, an all-metal iPhone 4 skin, is a feast for the eyes. It provides stylish, ultra-thin, stainless-steel protection for your iPhone, and comes in four artistic flavors: The mesmerizing Wave, the elegant Fern, the edgy Fold, and the elaborate Maze.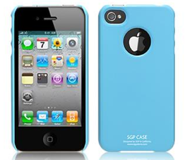 SGP
SGP has a few new offerings available. The Ultra Silke R Series ($20) is a high-polymer-coated silicone case that provides durable impact protection while allowing access to all controls and ports. The high-polymer coating prevents lint, dust, and fingerprints from crimping your phone's style. The Skin Guard Set Series ($18) is an adhesive covering, made with eco friendly PVC material with a faux-leather texture, that adds some elegant flair to the back of your iPhone.
The Ultra Thin Pastel ($20) is a polycarbonate case that features a glossy, UV-crystal coating and a super-slim, lightweight design. The Neo Hybrid Matte ($27) boasts a high-polymer-coated silicon body and a matte, UV-coated polycarbonate frame. Along with a form fitting, elegant shape, the case includes an LED-flash diffused-reflection protector to keep your flash-assisted photos looking good.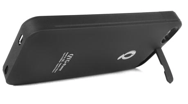 USBFever
What would our weekly case roundup be without an offering from USBFever? The thrifty distributor has released the Power Pack with Click Stand ($40), a sleek new case with a built-in battery and a flip-out kickstand. Unlike many cases with built-in batteries, the Power Pack with Click Stand lets you charge and sync your iPhone while it's still in the case. USBFever has managed to make this case remarkably thin considering it packs a 1400mAh battery.