Adobe has launched Project Rome, a new all-in-one content creation and publishing application targeted to consumers, small businesses, and educators. Designed as an easy-to-use tool for non-professionals, it provides a way for the general public to create rich multimedia documents without having to purchase or learn complicated desktop publishing, design, Web creation, or multimedia applications.
This product lets users produce printed, electronic, and Web-based documents featuring integrated graphics, photos, text, video, audio, animation, and interactivity. The cross-platform application is available both as an Adobe AIR desktop program and as a browser-based Web service. Project Rome offers output in formats such as PDF, SWF, JPG, PNG, SVG, or FXG or Web files for either an Adobe or third-party-hosted Website.
Users can create projects ranging from printed materials like flyers, business cards, and reports to interactive documents, basic Websites, and animations. Adobe envisions Rome being used in the workplace for presentations, marketing materials, online advertising, and Websites. Individuals and families can use Project Rome for vacation updates, family Websites, party invitations, digital scrapbooks, CD and DVD covers, and other personal projects. Educators can use a special version of Project Rome in classroom settings to help convey complex topics visually.
Project Rome supports cloud-based computing and the ability to share files via Adobe Acrobat.com, Google Apps, or via the Project Rome Template Exchange. Users can also publish links to their creations directly via Facebook, Twitter, and Google buzz. Project Rome does not currently work on mobile phones and devices.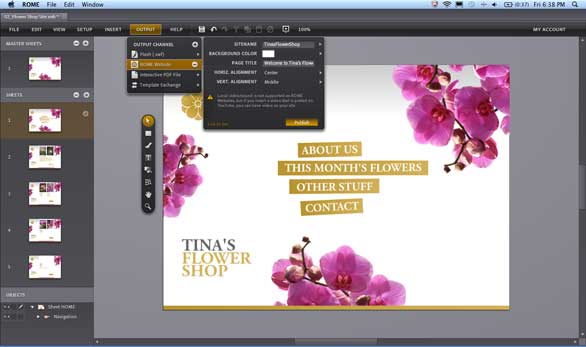 There are two versions of Project Rome: one for the general public for home and business use and the other, called Project Rome for Education, targeted to K-12. Common features to both versions include working with a full range of media types and a full range of formats and projects. The consumer version allows for Adobe ID log-in, Web hosting, and Community Exchange. Project Rome for Education requires the institution to have Google Apps for Education and/or the Moodle learning management system previously installed. Project Rome for Education also supports Internet content protection and IT infrastructure requirements.
Project Rome is available now as a free preview, and Adobe seeks feedback from users before launching the app commercially. It is currently available only in English in the United States. Pricing for the shipping version has not yet been determined. However, when it is released, Project Rome will be offered as a paid subscription service.
The installed version of the program works on Intel Core Duo or faster Macs running OS X 10.5 or higher with a recommended 2GB of RAM or more. Users also need Flash Player 10.1.x or higher for the Web application and Adobe AIR 2.0.3 or higher for the desktop application.