NicheVision's Aarde Web Browser offers desktop browsing features for your iOS device. Optimized for the iPad as well as the iPhone and iPod touch, Aarde delivers features such as ad-blocking, the ability to change your browser's user agent and open tabs in the background, note-taking, Google Bookmarks support, sharing, and a privacy option.
That's certainly an extensive feature list, and a few of those capabilities are welcome additions to iOS browsing. Ad-blocking, a feature Apple's mobile Safari browser lacks, works quite well. In my testing, Aarde blocked most ads I came across (including Fusion Ads but not, oddly, the Deck) without blocking innocent images as well.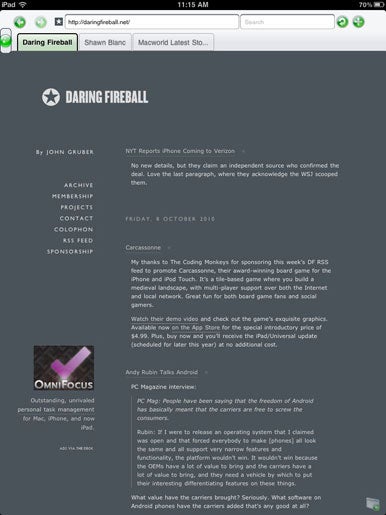 Unfortunately, the app suffers from odd user interface decisions and slow page load times. Apart from a not-exactly attractive look (buttons are shiny green spheres), poor interface decisions and mistakes abound. Closing a tab on the iPad, for example, requires a minimum of three taps—bringing up an options popover, advancing to the tabs management view in the popover, and then finally tapping to close. If you are not already in the tab you want to close, you must move to it first, adding another tap—the entire process feels slow and cumbersome. The options popover has other mistakes, too; for example, when you move to the Google Bookmarks view, the popover suddenly enlarges to fill the screen vertically and has an "Edit" button even though there is nothing to edit and the view just has a three-row table.
I also found myself disappointed with browser performance. While Safari took about 12 seconds to fully load a test page, that same page needed 50 seconds to load in Aarde Web Browser. And that slowdown wasn't limited to that one test page—other Websites loaded slowly in Aarde, even after my first visit.
If you own an iPad, NicheVision also offers Aarde Web Browser Lite for free. The lite version limits you to five browser tabs at a time.
Aarde has a long list of features, many of which would be quite welcome in an iOS browser, but its poor performance and interface mean it won't be replacing Safari on my mobile devices any time soon.
[Kyle Baxter writes and publishes the Mac weblog TightWind.]