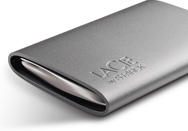 LaCie has announced the Starck Mobile USB 3.0. The drive is a version of the Starck Mobile Hard Drive, but with USB 3.0 support.
Macs don't currently have USB 3.0 ports, but USB 3.0 drives like the Starck Mobile are backwards compatible with USB 2.0. If you have a Mac Pro or a MacBook Pro with an ExpressCard slot, you can add USB 3.0 by using an expansion card. LaCie offers a USB 3.0 PCI Express Card ($50), and well as a USB 3.0 ExpressCard/34 ($60) card.
The Starck Mobile USB 3.0 features a aluminum casing that's 2 mm thick. The USB 2.0 version has an attached cable; the new Starck Mobile USB 3.0 does not have an attached cable.
The drive is available in a 500GB capacity for $110.
Starck Mobile Drive USB 3.0 500GB