Just in time for Halloween, a new app from developer Fling Soft is making an entire library of older films available for iPhone—including the classic Night of the Living Dead.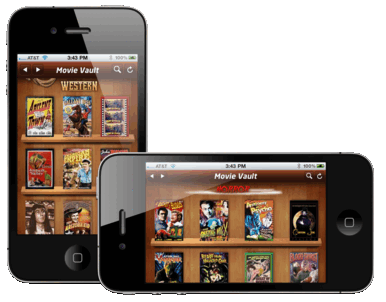 The George Romero flick is perhaps the most famous offering in the recently released Movie Vault for iPhone app, following on the success of Fling Soft's $5 Movie Vault for iPad app. More than 1000 movies and television shows in the public domain are available through the apps, including lesser-known efforts by actors including John Wayne, Jack Nicholson, Charlie Chaplin, and more. Fling Soft says it can add additional movies to the library—and will do so regularly—without requiring users to update the app.
Both versions of the Movie Vault app offer users a "bookshelf" view of the video library, similar to the popular Classics book app that was duplicated by Apple in creating its own iBooks offering. Movies on the phone can stream wirelessly through both Wi-Fi and 3G, and films can pause in the background if a user takes a phone call or checks e-mail.
Movie Vault for iPhone is $3 and compatible with any iPhone or iPod touch running iOS 4.1.