Those sick sadists at iFixit have ripped apart yet another brand new piece of Apple hardware. This time, the poor device that fell victim to iFixit's electronics-dismembering fetish was the just-released 11-inch MacBook Air.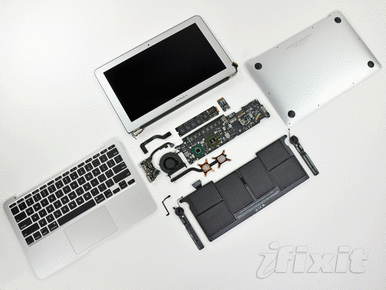 The iFixit team found that Apple used 5-point Security Torx screws to attach the Air's lower case—apparently the company really doesn't want people removing them—so iFixit had to go the extra mile and file down multiple flathead screwdrivers to remove the screws. The iFixit folks confirmed that, as Steve Jobs showed during the Back to the Mac event, the MacBook Air's internals are dominated by the six cells that make up the laptop's capacious battery.
iFixit says that the 64GB flash memory storage board could feasibly be user replaceable, if you didn't have to contend with the 5-point Torx screws to open the Air up in the first place. The site also found that the flash memory seems to be assembled by Toshiba, along with five of the six other chips on the Air's board; the sixth chip is a Micro DDR DRAM cache.
The only thing that iFixit doesn't indicate is whether the site was able to reassemble the Air successfully—we certainly hope so, since it would otherwise be a tragedy for a laptop in the prime of its life.
11.6-inch MacBook Air/1.4GHz (128 GB)