It's only been a couple days since the new MacBook Air announcement, but WaterField Designs already has cases ready for both new models. The San Francisco-based case and bag manufacturer has announced a new laptop SleeveCase and Suede Jacket Sleeve made specifically for the new MacBook Air 11.6-inch and 13.3-inch notebooks.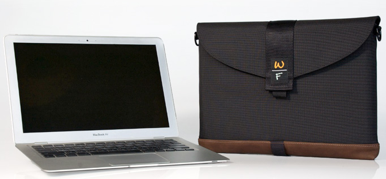 The SleeveCase is a form-fitting ballistic nylon shell with a high-grade neoprene interior that absorbs shock and cushions the MacBook Air against bumps and bruises.
The SleeveCase can be custom ordered to match your needs with either a horizontal or vertical orientation and an optional padded front flap ($15), shoulder strap with D-rings ($12), and Piggyback accessories pouch ($25). You can also choose between a distressed brown leather trim—which costs an additional $10—or a gray-checkered Indium trim. The SleeveCase costs $37 for the 11.6-inch model and $39 for the 13.3-inch model.
The Suede Jacket Sleeve is a lightweight protective case made from scratch-free Ultrasuede, which allows it to double as a screen cleaner. The bottom of the sleeve is lined with neoprene padding to protect the most exposed area of the device. The Suede Jacket Sleeve costs $25 for the 11.6-inch model and $29 for the 13.3-inch model.
The cases are available for pre-order now and will begin shipping sometime next week.