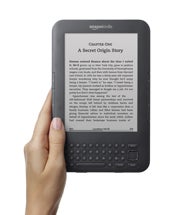 Amazon has spilled the beans on two new upcoming features for the Kindle: e-book lending, and periodical reading in apps.
The most exciting news is that before the year ends, you'll be able to lend e-books to your Kindle-using friends (and they to you). The lending works in much the same fashion as Barnes & Noble's LendMe e-book lending works: you can lend a book to a friend (or enemy, if you so choose) for 14 days. Sounds cool, but there are a couple of things to be aware of: during those 14 days, the original owner of the book can't read it (which makes sense to me, since it's the same with a physical book) and you can only lend each book once (which is kind of lame, if you ask me). Publishers will be able to enable, and disable, lending on a book by book basis, much like the Text-to-Speech feature of the Kindle. So we'll have to wait and see how useful and widespread the feature actually is.
Also, at the moment, only those who own physical Kindle devices can subscribe to and read a plethora of periodicals in glorious E-ink—none of the Kindle apps supports reading this content. But soon that's all going to change. Starting with the iOS Kindle apps (for iPhone, iPod touch, and iPad) Amazon will be adding support for reading your Kindle periodical subscriptions on your other mobile devices. Amazon plans to share more about this feature in the coming weeks.
It's worth nothing that Apple's iBookstore doesn't offer any lending functionality at the moment, nor can you subscribe to magazines and newspapers. However, Apple, Amazon, and Barnes & Noble are feverishly adding features to their respective platforms, so I wouldn't be shocked to find iBooks adding some of this functionality in the not too distant future.
Kindle (Wi-Fi, 3rd Generation)