Samurai II: Vengeance, the sequel to Samurai: Way of the Warrior, is a beautifully rendered hack-and-slash action game by Mad Finger Games.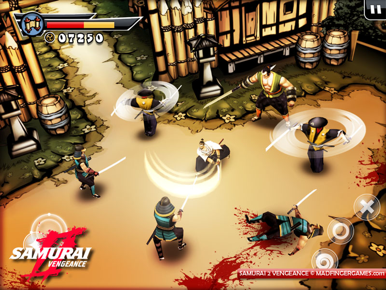 The story starts where Samurai II's prequel left off. This time, your character is hunting down the demon Orochi, who is aiding the yakuza in their criminal ways. On your path to vengeance, you'll encounter countless waves of enemy samurai and navigate platform type puzzles. Along with a quest mode, the game includes a "Dojo" mode that lets you practice your combos against an endless wave of opponents.
The controls are pretty straightforward, with a joystick providing 360 degree control over your characters movements, two action buttons for light and heavy attacks, and a roll button that lets you deftly maneuver out of harms way. The controls were responsive enough, but I had a difficult time successfully executing many of the combos, which consist of simple XXO and OOX combinations. Most of the fighting revolves around stealth, as there's no block button, so you'll find yourself sticking to a strategy of roll-attack-roll-attack. The gameplay is very entertaining, and at times quite challenging, but with only six combos and two attack buttons to work with, the fighting can get monotonous after a while.
Along with the typical slash and dodge affair, the game also features platform-type elements in which you use switches to manipulate moving platforms, and carefully navigate past timing-based hazardous obstacles. These puzzle sections help break up the monotony of hacking through endless waves of opponents, but provide little challenge on their own.
The most notable quality of this game is its superb graphics. Samurai II features stunning 3D, cell-shaded graphics that managed to run smoothly during the vast majority of play time—even when 5 or 6 characters were simultaneously on screen. The animations are fluid and realistic, and the game's bright, vivid colors, and stylish, cartoony flair kept me glued to my iPhone. Let me be clear about this: Samurai II: Vengeance is one of the best looking games I've seen on the iPhone.
My biggest gripe is Samurai II's lack of new enemies and combo moves to unlock. There are essentially 5 types of bad guys that are thrown at you again and again. I kept waiting for a new enemy to appear, but after hours of battling the same 5 baddies with the same 6 combo moves, the game started to feel a bit dull. The sound effects and storyline are also nothing to write home about, but those are minor points.
It should be mentioned that Samurai II is violent. The blood flies freely throughout the game, and your character will often perform slow-motion finishing moves that result in decapitation, dismemberment, and/or blood being splattered onto the camera complete with gruesome sound effects. I found the gorey death sequences to be immensely entertaining, but it's safe to say this game isn't for the faint of heart.
All things considered, Samurai II is a very entertaining title with solid gameplay and stunning graphics. Despite its shortcomings, Samurai II is worth every cent of the $3 it sells for.
[David Dahlquist is a frequent contributor to Macworld.]