Popular culture now considers vampires sexy, werewolves intriguing, and other monsters various flavors of cool. Barry Steakfries, the hero in Halfbrick's action game Monster Dash, just wants them dead. Despite interesting graphics and a main character with a great sense of humor, however, this action title is marred by jarring level design and repetitive action—offering little incentive to keep playing.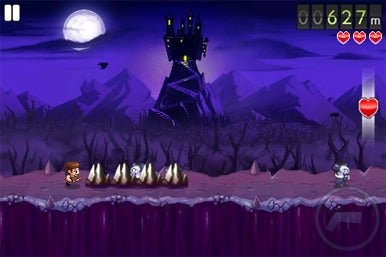 Monster Bash is a 2-D sidescroller shoot-em-up in classic arcade style. Barry is propelled forward automatically, and as he runs, various monsters wander around and pop out of the ground. Playing is simple due to the fact that there are only two controls: jump and shoot are located in the left and right corners, respectively. Points are earned based on how far you run and how many monsters are killed.
Visually, the game is handsome, and displays backgrounds of eerie castles and metropolitan cityscapes, depending on the level. As Barry runs forward, obstacles arrive in the form of spikes sticking up from the floor, various monsters, and edges of buildings. These, of course, must be shot, or hurdled over, accordingly. Big wooden crates along the way can be picked up to score prizes like weapons or the "badass hog" motorcycle.
Unfortunately, levels in Monster Dash are random. Where Barry starts running isn't an option players can decide upon, and in the middle of the game, he often transports to another scene without warning. I can't help but agree with Barry when he laments, "Who designed this place and thought spikes everywhere would be a good idea?" While all the elements of the app should make for a fun game (and do, to some extent), I have one major complaint: very early on in Monster Dash, Barry Steakfries picks up speed and runs along so quickly, that I find myself shooting blindly and jumping clumsily, hoping that I'll connect with a monster and land on solid ground. By running around so blindly, the movements feel random instead of strategic. This is not to say that I want a watered down, easy version of the game, but rather, I want to feel as though I'm actually playing it and not just tapping chaotically. Also problematic is that the original gun Barry is equipped with doesn't shoot very far, and can't reload quickly enough to double shoot when needed. This led me to jump over enemies rather than shoot them.
Overall, I'm left with the opinion that the best part about Monster Dash is losing. Only upon dying are players graced with one of Barry's sarcastic insights. After falling off a cliff, or bumping into a vampire, the home screen of the game pops up with our hero's likeness, and a quotation: "That mummy is just angry because no one will ever love him. Or her. Or whatever it is." The game's humor is what I was ultimately more impressed with, not the graphics or the actual activity of killing beasts. Still, Monster Dash is somewhat enjoyable distraction. It's fun to watch vampires burst into clouds of bats when shot, and Barry Steakfries crumbles to the ground in a pile of bones when he runs out of lives. The app is predominantly enjoyable, albeit frustrating when factors like slow weapon reloading come into play.
[Stephanie Kent is an editorial intern for Macworld.]