Adobe has announced its new Digital Publishing Suite, a set of hosted services and viewer technology that enable publishers to create, publish, optimize, and sell their digital content directly to consumers, via content retailers, or in mobile marketplaces such as the Apple App Store.
The Digital Publishing Suite, unveiled at Adobe's MAX 2010 conference, is expected to be available commercially in the second quarter of 2011, offering both a Professional and Enterprise Edition.
Based on Adobe CS5, and particularly InDesign CS5, the Digital Publishing Suite will facilitate the design and delivery of publications accompanied by e-commerce technology and analytics reporting. The suite will work in conjunction with InDesign CS5, PDF, and HTML5 to let publishers create layouts, build new levels of interactivity in InDesign, distribute digital editions, and optimize editorial and advertising content for a complete digital publishing workflow.
"The publishing industry is reinventing itself and a new era of editorial and advertising innovation is upon us as publishers target new mobile hardware platforms," said David Wadhwani, a senior vice president at Adobe. "By leveraging the InDesign CS5 workflow and the services of the Digital Publishing Suite, professional publishers can design and commercialize a new class of innovative digital magazines to create a richer and more dynamic reading experience that will attract high-value subscribers and advertisers."
The Digital Publishing Suite will support the Adobe Content Viewer for iOS and Adobe AIR so readers can access publications on tablets such as the Apple iPad and other devices.
The Digital Publishing Suite features four enterprise services plus the viewer technology.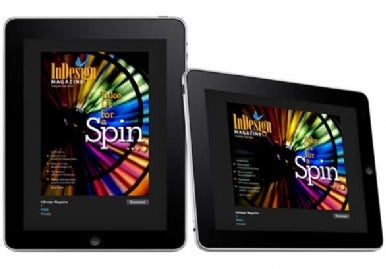 The Production Service lets publishers upload articles directly from InDesign CS5 into a hosted service where they can collaborate on design, assemble editorial and advertising content, add issue and article metadata, and preview the issue as it will appear in final published form on the desktop and tablet devices. The Production Service will support a range of file formats, including PDF and HTML5.
The Distribution Service stores, hosts, and distributes digital content across tablet devices and desktops. Publishers can publish and fulfill issues across devices and screen resolutions with cross-platform viewers and notify readers when a new magazine issue is available for purchase or download.
The E-commerce Service enables in-app purchase of single issues and subscriptions through retailer platforms or mobile marketplaces such as the Apple App Store and others such as Android Market or Google Apps Marketplace. Publishers can create merchandising programs such as print and digital content bundles and enable readers to purchase content directly from within the magazine app on their device. Readers can purchase content once and read it on their desktop or tablet devices.
The Analytics Service, featuring Adobe's Omniture-based SiteCatalyst, lets publishers access prebuilt dashboards directly from within the hosted publishing workflow to view advertising and subscriber data. This includes total ad views, issue download and purchase metrics, engagement with interactive content such as video, and viewer profiles.
Additional information about the Digital Publishing Suite is available on the Digital Publishing blog and on Twitter.
Pricing and availability
Pricing for the Professional Edition is expected to be $699 per month plus a per-issue fee that scales according to volume. For that price, publishers can access the Digital Publishing Suite and create applications for all of their titles and publications. The Enterprise Edition is a custom, multi-year platform agreement that gives publishers access to technologies for integration of back-end services such as subscription management, print fulfillment, and e-commerce. Adobe also offers professional services to support enterprise level projects.
Professional publishers that want to deploy and sell commercial applications prior to general availability of the Digital Publishing Suite can join the Adobe Digital Magazine Publishing Prerelease Program. A preview release of the add-on digital publishing technologies for InDesign CS5 is available at Adobe Labs. Adobe is already working with publishers such as Condé Nast and Martha Stewart Living Omnimedia to create dynamic digital magazines.