Like Foursquare and Gowalla, AdaptiveBlue's GetGlue is a social network based on checking yourself in. Only in the case of GetGlue, you're checking in and rating the popular culture you consume.
Using either GetGlue on your iPhone or iPod touch or GetGlue for iPad, you can let people know about the movies, TV shows, books, music, and video games you enjoy. You can even check in the wines that you drink. In turn, GetGlue offers recommendations for new things to watch, read, or listen to based on your tastes; you also receive "stickers" (badges, basically) when you do certain things, like rate a set amount of movies or check-in to a TV show at a certain time. Think of it as a social network, built around TV shows, movies, and music.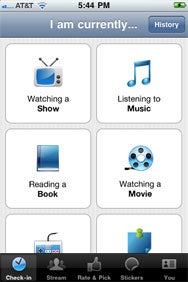 From within the GetGlue apps, users can follow friends or people they come across on the service, which lets you see what your friends are up to. There are more than 650,000 GetGlue users leaving 6 million ratings every month, according to AdaptiveBlue. Considering that the company claimed half-a-million users as recently as July, GetGlue is clearly growing as a service.
GetGlue's two iOS apps are very similar in both functionality and design, and both work pretty well. Launch either app, and you'll quickly be introduced to GetGlue's main function—checking in to different media. For example, tapping Watching a Show opens a search bar for adding TV shows, and lists all TV shows you've recently watched. This makes it relatively quick and painless to keep your GetGlue profile up to date with what you're doing.
But checking in is only part of the GetGlue story. The iPhone and iPad apps also encourage you to rate different media, and that feature works well, too. You can pick from different genres—adventure movies, say, or TV sitcoms—and the app gives you a list of items to rate. Rating on the iPad is quick—a Rate button appears on each listing and summons a pop-up. From here, you can tap whether you like the item or not, or save it for later. This makes it easy to go through a list of movies, TV shows or books and rate them.
I did come across a small problem in the rating section, though. If an item is listed in two different genres (say, The Hangover, which is listed in both the Best of 2009 and Comedy categories), and you rate it in one place, it won't be rated in the other. Closing and relaunching the application, though, caused it to update.
GetGlue dispenses stickers for certain achievements, but, in my opinion, that's the weakest aspect of this particular social network. Unlike Gowalla or Foursquare, GetGlue users not only receive stickers via the app, but they can order them from GetGlue as well. Social networking enthusiasts may disagree, but I just don't see the point in the stickers—there's no real benefit to having them, there's nothing exciting about it, and it feels gimmicky. Then again, being the mayor of your favorite restaurant on Foursquare doesn't give you any executive powers, so clearly the achievements that the stickers represent appeal to someone even if it isn't me.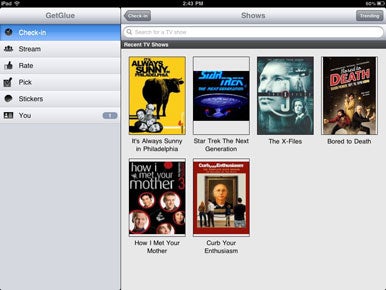 To me, the more interesting aspect of GetGlue is whether it helps me discover new shows to watch, movies to see, and things to try. And to that end, the service succeeds. I found that its recommendations for books, movies and TV shows users based on my ratings were a lot more on the mark then other services. (I'm looking at you, Netflix.)
But there's another reason to use GetGlue: Does it fit into the way you watch and read things? For me, the app falls short. I don't have much of a reason to pull out my iPhone or iPad when I begin watching, say, Curb Your Enthusiasm or when I open Neuromancer to check-in. It feels awkward to me, and there's no real incentive to actively participate in the social network (save for those stickers I mentioned earlier). Others might embrace GetGlue enthusiastically, seeing it as a way to connect with other people who have shared interests. But I didn't find that possibility very appealing.
GetGlue is a well-assembled app, whether you're using it on the iPhone or iPad. But how much use you get out of it will depend on whether you want your social networks to extend into the popular culture you consume. If you're like me, you find the app's appeal limiting… at least until it starts integrating with other services so that my ratings and recommendations could follow me online. If you've always wished for a Foursquare-style approach to watching TV or going to the movies, though, you'll likely find GetGlue to be a more attractive addition to your iOS device.
[Kyle Baxter writes and publishes the Mac weblog TightWind.]