If there's a success story to be found among "old media" institutions adapting to the Internet Era, The Guardian must be it. The venerable British newspaper has evolved nicely, expanding its audience—and its coverage—to serve U.S. readers who went online seeking alternative news sources. Now The Guardian has moved into the mobile arena, with a $4 self-titled app that ranks among the best in the news business.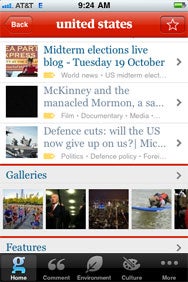 The Guardian app offers endlessly customizable headlines, allowing you to shape the homepage according to your interests and the amount of coverage you want; American readers can choose to make the U.S. coverage most prominent, for example. The app also includes photo galleries and a delightful array of podcasts—although you'll need a Wi-Fi connection for the audio. And like every news app these days, The Guardian makes it easy to share stories via Twitter and Facebook.
There are some shortcomings. The app is slow to load headlines onto the front page when it is first opened. The Guardian's video content is missing. And users have no option to copy-and-paste text from interesting stories. But those faults are relatively minor. Fans of The Guardian will find much to like in this new app.
[Joel Mathis is a freelance journalist and political columnist for Scripps Howard News Service. He lives in Philadelphia.]