Even when you set your iPad down to work on other things, the tablet can still provide a source of entertainment. Magic Window from Jetson Creative essentially turns your iPad into a picture frame, but with a twist—it shows time-lapse scenes of sunsets and mountains. Unfortunately, while Magic Window provides you with many options, this app doesn't entirely harness the power available to it via the iPad.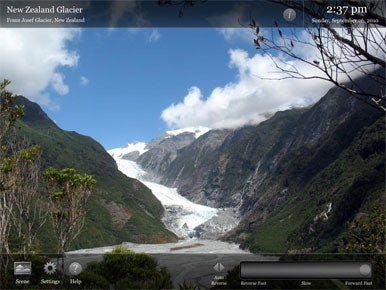 When launched, Magic Library presents you with a scene from its library of four default scenes; a dozen more scenes are available as free downloads within the app. A titlebar displays the time and name of the scene with an info button for a description, and a lower bar gives you options to change the scene, app settings and the speed of the animation.
Every scene available is essentially a stop-motion video of a certain scene, such as clouds, a mountain pass or a cityscape, matched with an accompanying ambient sound. Within the settings panel, the app provides options to change the volume and keep the screen from turning off. You can also set a sleep timer and control the clock display. Leave the app undisturbed, and the menu bars fade way, leaving you to enjoy the scene.
My biggest complaint with Magic Window is that while the iPad can display 720p HD video, the developer has chosen to use the stop-motion technique. Because of that, some of Magic Window's images aren't exactly the highest quality. This could potentially be a ploy to save battery life, but in my experience, the app doesn't seem to drain the battery any faster than if I were to watch a video. Besides, if you're using Magic Window while your iPad is idle, chances are the tablet is plugged in anyway.
Magic Window offers plenty of options if you're looking to spruce up your desk while your iPad's not in use. But its reliance on lower quality images keep this app from being the perfect desktop picture frame.
[Rob de la Cretaz is a full-time polymath and a proud resident of Pittsburgh.]