Money 4.0—a $5 finance offering from iBearSoft—is an app that only an accountant could love. Yes, it provides a nearly endless array of options for tracking and organizing your finances. But unlike a number of free finance apps on the market, all the work is left to the user.
That's not to say the app is useless: It performs the basics just fine. You can input data on your transactions, your income, your assets, your debts and your budget—and fine-tune the categories within those categories. It even guides you through the budgeting process, if you want. Money 4.0 uses that information to create reports that give you an overview of your financial situation. What's more, it doesn't assume that you live your entire life on your iPhone—you can easily export your data in spreadsheet form or to iBear's computer desktop client. So far so good.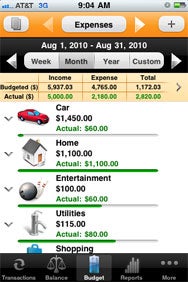 The problem? In most cases, you have to enter all of that data manually. Every sandwich bought. Every bill paid. Every paycheck. Unlike free finance apps from Pageonce Bills or Mint.com, the app doesn't plug directly into your bank or online bill-paying accounts—and thus can't save you from yourself if you forget to enter a transaction.
The closest the app comes to automation is an "OFX Import" that allows you to upload your financial spreadsheets from your computer or iPad, but that's a slightly confusing process that less-savvy financial app users will probably want to avoid.
There is an upside to this lack of automation: You'll have fewer worries about the security of your financial information. Apps like Pageonce promise layers upon layers of security for your connections to online banking information, but that's not a problem if you never make the connection in the first place. Some users may find they want that piece of mind.
There is also a free version of Money 4.0, and like most free versions of paid apps, its job is to sell the pricier version. Money 4.0 Free does this by giving you access to all the same features that are available on Money 4.0, but giving you much slower launch times on the app and hassling you with popup ads to buy the paid version. To their credit, the folks at iBearSoft are frank about this strategy: They explain it as soon as you launch Money 4.0 Free. Given the limitations of the pay version, however, this approach ends up being less of an inducement to spend money and more of a reason to avoid Money 4.0 altogether.
There's nothing wrong, exactly, with Money 4.0. It's just that other finance apps do more and cost less. The folks at iBearSoft may have overestimated the appeal of an app that requires users to do all the heavy lifting.
[Joel Mathis is a freelance journalist and political columnist for Scripps Howard News Service. He lives in Philadelphia.]