As this writing, 38 states have full or partial bans on texting while driving and eight states have bans on drivers using handheld cell phones while driving. Despite the proliferation of distracted driving throughout the country, surprisingly few iPhone apps work to keep drivers distraction-free while on the road. SafeCellApp aims to be the first.
SafeCellApp by developer W2W rewards safe driving. The app uses the iPhone's GPS to track your driving and rewards users for each "safe mile" driven without talking on the phone or texting. Each safe mile equals one point in the SafeCellApp online store and users may redeem points for e-gift cards from retailers like Apple, Amazon, Macy's, and Sony. A $5 gift card costs 500 points and users may accumulate up to $250 of points.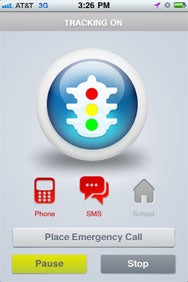 While you drive, the SafeCellApp remains active on screen. When you start the app, a voice announces the prohibitions in your area. For instance, the app reminded me that talking and texting is prohibited in my state and later alerted me when I was entering a school zone. If you like, you can disable these verbal reminders from an options screen.
SafeCellApp prevents you from making calls or texting while driving, but it cannot stop incoming calls or texts from appearing on screen. If you answer a call while SafeCellApp is running, your score will suffer. Incoming texts can be read because they "pop over" in SafeCellApp as they do in all applications. Currently Apple does not allow third-party applications to disable the text messaging "pop over" notifications.
SafeCellApp allows drivers to use Bluetooth headsets to answer calls, although it takes points off for answering a call no matter if the user is using the phone or a hands-free device. In doing so, the developer refers to various studies that indicate that there is no discernible difference between talking on a cell phone with the phone in your hand or with a hands free device—the act of talking is equally distracting.
I accumulated 122 safe miles over 19 trips while testing SafeCellApp over a few weeks. The app always found my location in seconds and only crashed once (when it told me I'd driven less than a mile after a trip of about five miles). After I completed a drive, SafeCellApp gave me a score for my trip—100 percent since I neither answered a call nor texted while driving.
SafeCellApp does include an "emergency call" button if you need to make a call while the app is running. The app also includes a pause button—pressing it will not affect your score, but it will also prohibit you from accumulating points until you resume using the app.
After you complete a trip, SafeCellApp uploads your GPS data to your free online account, where you can review your trips and total points. The maps of recent driving trips may be useful to parents interested in their teen's driving habits but, of course, a teen could always find a workaround. Still, the ability to review trips seems like it could be useful to parents.
I asked the developer about user security since the app automatically uploads GPS data to its Website. W2W assured me that the information is stored securely on an Amazon EC2 cloud server and that no one other than the user can assess the GPS data.
SafeCellApp is normally a subscription based service ($12 for the app and $12 annually to use the service), but the developer is offering free lifetime subscriptions to anyone that buys the app before December 28, 2010.
SafeCellApp is a worthwhile investment for anyone interested in distraction-free driving. It offers peace of mind in a simple, easy-to-use interface and is one of more inventive safety utilities available in the App Store today.
[Macworld contributor Brendan Wilhide covers the sports industry and social media on Sportsin140.com.]