Orlin Kolev's The World Clock is the perfect app for anyone who has ever wondered what time it is somewhere else in the world.
Launch the app, and you'll see six analog clocks below a large map of the world. Each of the clocks is set to the current time of an international city. The clocks use the iPad's internal timer to determine the current time.
A large shade spot covers the portions of the globe where it's currently nighttime. But with your finger, you can move the map's shade spot left or right, with the the analog clocks reflecting your time travel.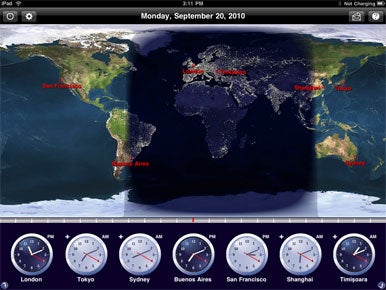 So why is that useful? Let's say I have a friend teaching in Timisoara, Romania. I am in San Francisco, and I want to know if 5 p.m. Pacific is an appropriate time to call my friend. The World Clock can help me.
Tap the app's clock button in the top left of the screen, and you can add or delete city clocks to your clock line up. The clock button presents you with a list of all the countries in the world. A search bar at the top of the country list will help you find Romania and the United States. If you tap on either country, the app will present you with a list of it cities. Once you locate San Francisco and Timisoara, and add their clocks to your interface, you can then do a comparison of the cities' times. It turns out that I better not make that phone call at 5 p.m. in San Francisco, unless my Romania-based buddy doesn't mind early morning wake-up calls.
If you tap the gear button, located right next to the clock button, you can make your clock backgrounds reflect different parts of the day. For instance, if New York is still in daytime, you can make its clock have a white background. If Shanghai is in nighttime, you can make its clock have a black background. You can also have clock backgrounds reflect business hours, AM/PM hours, or Sunrise/SunSet hours. You have the option to ditch the analog clocks altogether and go digital. I found each clock function helpful and useful.
I would like to be able to tap on any part of the world map, zoom in on that part, and then select a city to find out its current time. But that's not an option in The World Clock.
Still, that's a minor complaint. The World Clock's functions work well, and the app is a great way for keeping track of time in other parts of the world.
[Sam Felsing is an editorial intern for Macworld.]