Your iPad's built-in Maps app packs in a lot of data, but sometimes, you might want to squeeze a little more information out about road conditions—particularly when you want to find a traffic-free route from Point A to Point B. Triangle Software has put together an app for those occasions—the free Beat the Traffic HD. And this iPad offering helps you navigate those four-wheeled-woes by giving you more than just traffic lines.
The app takes a very simple approach—a good idea for those times you turn to Beat the Traffic while in the car (though, hopefully, not when you're behind the wheel). Like Maps, you'll get a map view with Beat the Traffic. But in addition to the usual yellow, red and green traffic lines that show you current traffic speed, you'll also find small traffic cones, clocks, weather indicators, cameras and exclamation points to better inform you about the trip ahead.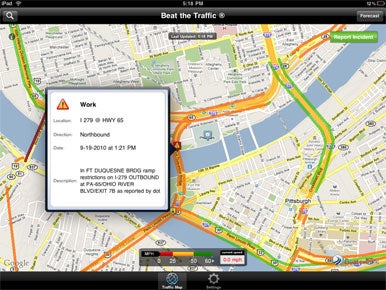 Using the "Life Traffic" view, you can get information on accidents, planned construction, and others events that might cause a back-up. By tapping on any of these icons, you can bring up more data, such as the direction, exact location and description of a construction-induced traffic delay, what event is happening at a local sports stadium (and what time), and images from supported traffic cameras.
The meat of Beat The Traffic lies in its ability to see into the future and help others do the same through user interaction. In the top right corner, you'll notice a "Forecast" button, which acts as a crystal ball of future traffic. By taking into account the status of all of the little icons and other tidbits of wisdom, the app can predict what the roads will look like up to two hours ahead the current time, available in 20, 40, 60, 90 and 120-minute intervals. Right below the "Forecast" button, you'll find the "Report Incident" button which lets you report information on an incident you don't already see on the map; that, in turn, gets shared with other Beat the Traffic users.
With Beat The Traffic, you aren't tied to your current location either. Say you're headed a few hours away for a day trip. Just drag over to where you want to see the traffic or use the search box to easily find that data.
Settings let you turn the auto refresh on or off, track your GPS beacon, and show camera, weather, roadwork, and incidents. You can even et how severe an accident has to be (low, medium or high) for it to show up on your map. With accessibility in mind, there is also a "colorblind mode" which changes the red, green, and yellow traffic lines to varying levels of gray.
Beat The Traffic HD really covers all the bases when it comes to not only looking at current conditions, but what to expect throughout the day. By integrating user reports with publicly available statistics, this app gives you the most accurate picture of the road you can get without actually being there, stuck in traffic.
[Rob de la Cretaz is a full-time polymath and a proud resident of Pittsburgh.]