Stick It from Tap Factory allows easy creation of really great-looking notes, which you can use as wallpaper on your iPhone. Of course, it's not interactive in any way, so you can't tap the note from your lock screen to see your notes app or anything. That would be groundbreaking; this app is simply useful.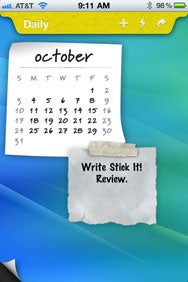 Making a note is simple, as you just need to tap the plus sign at the top of the app to create one. But then notes are simple things—it's the customization where Stick It really shines. With a flurry of backgrounds, styles and colors, you can spend all day personalizing your notes and never get anything done. Thankfully, you can also set an alarm for your notes, perhaps to tell you to get back to work.
From the export menu, you can get a preview of what your unlock screen will look like—great for making sure your notes are not hidden behind that built-in date and slider. To get your notes ready for your lockscreen, save to your Camera roll or take a manual screenshot, then go into the phone's settings to set your new background. Sadly, there's no way to set the background from within the app. You can also attach your screen to an e-mail, or share notes with Bump, in case your friends want to be as productive as you are.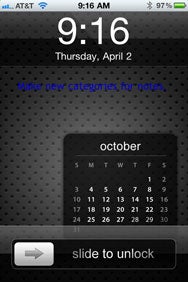 Although Stick It looks great and is a lot of fun, the app is limited in function. The iPhone's unlock screen does not have a lot of room to play with; little more information than a calendar and a couple notes can make the screen look very busy. I tried setting a note screen as my home screen, moving my icons around so I could see it. It was an interesting approach, but since the notes and calendar are not interactive, it was not really worth it.
Still, Stick It is a fine little app to have in your productivity folder, even if you might spend more time customizing notes than actually getting anything done.
[ Jeff Phillips is an educator, photographer and technology advocate. Find him on his blog or podcast.]