Halloween's coming. And just as you wouldn't leave the house without a costume, a sack for carrying candy, and a good flashlight to help you steer clear of danger, the iPhone is rapidly becoming a must-have item for the holiday. After all, developers have filled the App Store with a number of Halloween-themed offerings, all aimed at helping you trick and treat your way through October 31.
But which apps deserve a space on your iPhone for this All Hallowed's Eve? We've already told you about seven noteworthy costume, card, and carving apps. Now it's time to look at eight games and sound-effects apps that should make this a horrifyingly happy holiday for young and old alike.
Ghoulish Games
Treat Street: Elf Farm's Treat Street is a great, simple Halloween game for small children to play on the iPhone. At the start, players tap the head, torso, and feet of their trick-or-treater to change their costume. There's a good variety to choose from, and since the three body parts are decorated separately, there's room for creativity, as kids can choose to dress in any number of combinations. After the costuming is complete, the players begin wandering the neighborhood in search of candy. All actions are controlled by a single tap to the left or right, and then, upon locating a house that looks promising, players can ring the doorbell for a treat. While the majority of the game is limited to repeating these actions and switching up the costume when the mood strikes, players also have the option to tap their goody bag (located at the bottom right of the screen) to take stock of how much junk food they've acquired. Upon viewing the treats collected, players can rearrange the candy. The app is certainly simple, and while there aren't any challenges, puzzles, or incentives, Treat Street is still a nice Halloween app for children who want to take their trick-or-treating skills for a test drive before the spooky night rolls around.—Stephanie Kent
Scene It? Horror: Screenlife's popular movie trivia game is now available on the iPad—with a frightful twist. The $5 Scene It? Horror shows you random movie clips, posters, and screenshots from horror movies. It then gives you a designated amount of time to answer questions about the different pieces of memorabilia. At the end of the designated time period, it will add up all the questions you answered correctly, and reward you with a game score. You can post that game score on Facebook and challenge others to beat it.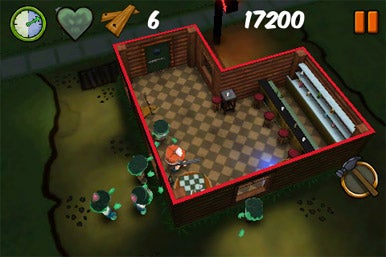 Zombie Wonderland: This $1 game from Chillingo is a classic zombie killing game. The town of Niceville has been invaded by the undead. You play as Tom, a Niceville resident who is known for his zombie-killing prowess. Local residents hire you to keep zombies away from their homes, bars, garages and cemeteries during the night. From inside each structure, you shoot at the zombies outside with your shotgun till the sun comes up. These zombies aren't all just horror-movie fodder, though: they're hard to kill, and they come at you in large quantities and from many different angles. You've really got to pay attention or you'll end up as zombie food. Though Zombie Wonderland can hardly be called original, it's hard to put down. There is nothing like the feeling of killing a zombie.—Sam Felsing
Frightening Fx
Aagh! Halloween Sounds: This $2 app from GameSalad lets you set off frightful horror noises with simple taps. The app's user interface consists of a black background filled with faces—of jack-o'-lanterns, serial killers, ghosts, monsters, bats and demons. If you tap a face, the app will produce a noise related to it. If you tap the serial killer face, for instance, you will hear Hannibal Lector's "I ate his liver with some fava beans and a nice Chianti" speech. If you tap on the bat's face, you will hear bat noises. The app isn't anything spectacular, but it performs its frightful purpose well.—Sam Felsing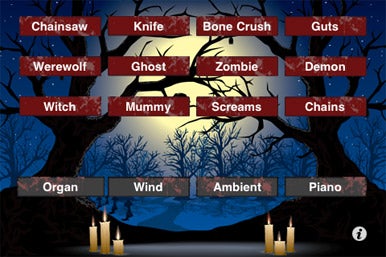 The Fright Factory: Say you want to make your house a haunted mansion for Halloween. You want to deck your house out with all the sounds that would normally inhabit a haunted mansion. Instead of buying several devices to make the frightful noises, you can just use Bit Perfection's $2 Fright Factory. The app's sound-effects menu allows you to produce several scary noises in conjunction with each other. The noise of a piano playing, the noise of screaming, the noise of knives clinking against each other, and the noise of guts spilling to the floor—sure, you can play all of those noises separately, but you can also play them together for extra scares. You also don't have to worry about pressing buttons over and over again to make the noises repeat—the app will replay each noise until you tell it to stop.
The Fright Factory is a terrific sound effects box, but its other functions are a distraction. The app lets you turn your iPhone into a strobe light. It also comes with three optical illusion puzzles for you to enjoy. You will grow tired of both functions very quickly. Still, the app is worth it for its sound-effects function.—Sam Felsing
Note: When you purchase something after clicking links in our articles, we may earn a small commission. Read our affiliate link policy for more details.