PBS on Monday joined the ranks of networks like ABC and TLC with an official iOS app for streaming full-length content.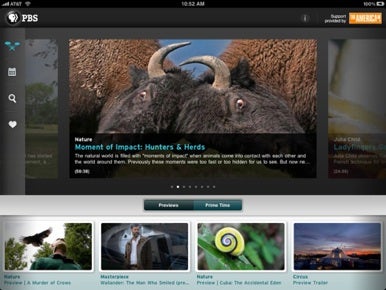 Called simply PBS for iPad, the network's new app allows you to watch full-length episodes on your iPad from 25 of its programs, including Nature, Masterpiece Theater, News Hour, and Circus, a new show that, according to ReadWriteWeb, is debuting first on the iPad.
PBS for iPad will remember where you left off watching an episode so you can resume later. It can also save a history of what you watched and when, and if you haven't brought yourself to throw your traditional TV out just yet, PBS for iPad can display a schedule for when its shows debut on air.
This is certainly not the first iOS app from PBS, though its other efforts so far have been mostly on the childish side, literally: besides PBS Newshour – Official, PBS's other efforts have focused on children, with apps like Curious George Coloring Book, Mister Rogers Make a Journal for Preschoolers, and PBS KIDS Photo Factory. A version of PBS for iPad designed for the iPhone and iPod touch is scheduled to arrive in November, and it will focus on previewing content instead of providing full-length shows like this iPad version.
PBS for iPad's arrival also coincides with the network's major revamp of its site, which can now blend national and local news together. PBS.org can auto-discover your location and include content from local PBS stations alongside important national news. This feature works with a dozen stations now, and the rest will be brought on within a few months.
PBS for iPad is available now for free in the App Store, requiring an iPad that runs iOS 3.2 or higher.