Zenaware has released Cornerstone 2, a major update to its version control client for developers, designers, and even writers who are really, really into digital bread crumb trails.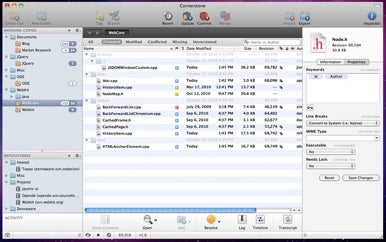 Cornerstone is a client for Subversion that brings a very Mac-ified interface to Subversion's otherwise command-line nature. It helps you visualize your project, displays files in a hierarchical tree on the left, and lets you review and annotate changes across branches.
New in this major upgrade is a powerful Merge view with four different modes—Synchronize Branch, Reintegrate Branch, Cherrypick Changes, and Advanced Merge—depending on how you need to work. Cornerstone's diff view for comparing changes now has blame support for viewing the author, date of the change, and the revision number. Creating tags and branches has also been improved in Cornerstone 2, and you can now display invisible characters and use a new, more flexible find bar in text diff view.
Altogether, over a dozen new features and 20 improvements round out Cornerstone 2. However, support for Mac OS X 10.4 Tiger was dropped from this version; it now requires 10.5 Leopard or 10.6 Snow Leopard. A free demo is available, and a single user license costs $59, while an upgrade from 1.x is $29. Volume discounts are available starting at five or more users.