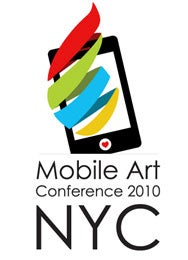 On the fourth floor of the Tisch School of the Arts at New York University, a movement dedicated to art created on mobile devices is growing. What started out as an online Flickr group devoted to iPhone artwork has grown into an official organization that wants to expand the way people look at mobile digital art.
Now known as IAMDA (International Association of Mobile Digital Artists), the group held its first Mobile Art Conference over the weekend, where developers, artists, and iPhone and iPad enthusiasts came together to discuss a burgeoning art form.
"We began by posting on Flickr and we started commenting on each others work," said John Bavaro, one of the seven core organizers who spearheaded IAMDA. "Then we realized we needed to meet in real space." Six months of planning later, and the group's vision of a real world conference was finally realized.
Held over two days, the conference featured multiple events, including a review of over 20 iPhone drawing and painting apps, a forum on printing mobile art, a lecture on the evolution of digital art, and a talk on the mobile photography movement. It concluded with an evening exhibition entitled "Illuminated Touch."
Bavaro, who is a professor of painting, drawing, and design at Edinboro University of Pennsylvania, said that the tactile quality of the iPhone and iPad is what drew him to the medium. "There was a connection between my body and the art I was making," said Bavaro.
Another one of IAMDA's seven founders, David Leibowitz, was a Polaroid artist in the late 1970s, known for the watercolor-like effect he used on his pictures. Using steel dental tools, he would make dents in Polaroid emulsions to create a unique blurry effect.
"I did that for about 15 years," said Leibowitz, "until I discovered Photoshop 10. And the Smudge tool. And Command-Z." In 1991 he switched to being a digital artist, but became tired of always being tied to a desktop machine. For Leibowitz, using the iPhone to illustrate meant he could return to a small, portable canvas. "It was like nothing changed," said Leibowitz, miming the motion of having an iPhone (or Polaroid) in one hand, and using his finger (or dental tools) in the other to create small works of art. Now his mobile artwork mostly consists of photographs he digitally renders through apps. He has also developed the iCreated app and written a book called iPhone Art/iPad Art .
Luis Peso, a painter from Granada, Spain, said he loved the immediacy of working on mobile devices. "Inspiration comes when you're on the bus. Before, I had to wait until I got all the way home to draw. Since getting my iPhone and iPad, I've been painting all day and night." At the conference, Peso gave a talk entitled "App Mashery." He said that although a paper sketchpad helped resolve the issue of instant inspiration before, its uses were limited. "Now I can do a sketch of a painting in one app and then use another app to apply different effects to the same image, like fabric," he said.
The Apple App Store has hundreds of illustrating apps, each offering unique features, but the essential app that was most often mentioned was the Brushes app. Developed by Steve Sprang, Brushes was one of the first two thousand apps in the App Store after it opened in 2008. It quickly gained a following within the artistic community and has had over a quarter million downloads.
"I could have not predicted this, it's sort of beyond my imagination," said Sprang on Brushes' popularity. After leaving Apple as a software developer, Sprang created Brushes, modeling it after simple painting software he played with during his youth. His next project is a vector drawing app called Inkpad, which Bavaro describes as "a $10 version of Adobe Illustrator in your pocket."
"My users do amazing things with my app and so I get some free marketing there," said Sprang. One of best publicity accidents occurred when the artist Jorge Colombo illustrated a May 2009 New Yorker cover using nothing but the Brushes app.
Whatever cultural impact digital mobile art may have in store however, most attendees at the conference simply came for the art, as evident from the eager crowd at Kassan's portrait session.
"You guys bored yet?" Kassan asked the audience after 40 minutes of drawing. "It's like watching paint dry… kind of."