Fans of the Delicious social bookmarking service and Pinboard's "antisocial bookmarking" site should be pleased to know that Shiny Frog has released an iOS version of Delibar, its Delicious and Pinboard client. The app provides most of Delibar for OS X's core features, including the ability to sync with multiple accounts, as well as add and edit your bookmarks.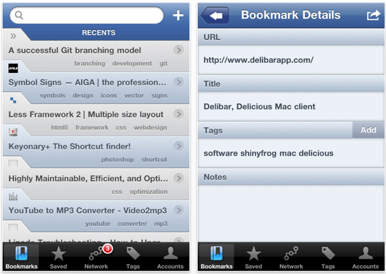 Delicious is a social bookmarking service that lets you tag, save, manage and share Web pages "in the cloud." Along with letting you easily keep your bookmarks synced across multiple computers, Delicious provides a number of social tools to help you discover new Websites and share them with others. Pinboard, on the other hand, is a minimalist bookmarking site that offers many of Delicious's features along with the ability to keep your bookmarks private—hence the "antisocial" part.
The $2 Delibar for iPhone app lets you sync one or more of your Delicious or Pinboard accounts with your iPhone. Once your bookmarks are synced you can search them, add new bookmarks, or modify your existing ones, all directly from your device.
Other highlights of Delibar for iPhone include the ability to perform global searches across all your bookmarks, the ability to navigate bookmarks by tags, save searches for later quick access, and browse your friends' bookmarks. There's also integration with Web services like Instapaper and Mobilizer and a bookmarklet you can use with the iPhone's own Safari browser.
Delibar runs on iOS 4 or later.