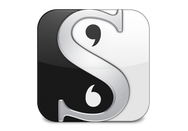 Good news for aspiring novel writers: Literature and Latte on Monday released a special National Novel Writing Month edition of its popular Scrivener writing program—and better yet, it's a preview of the forthcoming 2.0 version of the software.
The official release of 2.0 isn't scheduled until November 1st—to coincide with NaNoWriMo's kickoff—but Literature & Latte released this trial version, which will remain fully functional from now until December 7, so that prospective NaNoWriMo participants can give the software a shot. It even comes with a special NaNoWriMo novel template which automatically sets your target at the requisite 50,000 words.
Of course, the real star here is the much anticipated version 2.0 of Scrivener, which includes a bunch of new features, such as the ability to export projects in the ePub format (suitable for viewing in iBooks) as well as Amazon's Kindle format. There's also now a free-form corkboard for organizing your project any way you want; collections, to allow you to easily group documents together without changing the actual structure of your project; syncing support for both Mac and iOS syncing with DropBox and Simplenote; improved snapshots and backups of your work; document templates (such as the NaNoWriMo novel template); a Page Layout view; and many, many more little improvements, nips, and tucks.
While Scrivener 2.0 isn't yet available for purchase, the Literature and Latte team is offering a 20-percent discount off the $45 price tag of the program—and if you actually manage to hit your 50,000 word goal for NaNoWriMo you'll be eligible for a 50 percent discount.