Like a lot of 1990s cultural icons, side-scrolling adventure games are coming back in vogue. This modest resurgence has been aided greatly by the continual strides in mobile technology; developers see the iPad as new ground to renovate and sustain these successful franchises. One such developer, Revolution Software, has recently introduced an HD port of the first installment of the much-acclaimed series Broken Sword: Shadow of the Templars. This "Director's Cut" offers considerable cosmetic improvements to its 1996 entry, as well as a number of Easter Eggs for the devoted and industrious to enjoy, the most sought after of these a short comic by graphic novel legend Dave Gibbons (of Watchmen fame).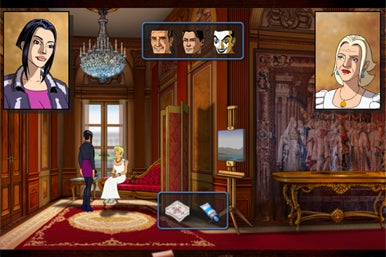 In this point-and-click adventure, you play two roles: the first as Nico Collard (co-LAARH), a snarky, curiously-coiffed Parisian journalist, the second, George Stobbart, a charmingly-dopey, principled American who looks seemingly fresh from victory at Augusta thanks to his weird green sports jacket. The story begins with a murder mystery that escalates into a whirlwind of political and historical intrigue, replete with Latin epithets and murderous mimes. Players interact with objects and people using the point-and-click engine, pursuing dialogue options and solving a variety of in-game puzzles, which like typical point-and-click adventures, can range from facile to frustratingly non-intuitive. There is also a rudimentary morality system, in which clicking on either the "devil" or "angel" (Nico's own is surprisingly terrifying) portraits allows the player to lie, cheat, or steal objects when the opportunity presents itself.
The puzzles are of moderate difficulty; this is eliminated entirely by a less-than-subtle hint system, which to the hardcore gamer might consider a cop-out, but makes sense in consideration of the more casual mobile audience. The dialogue is fully voiced and even well-performed, yet can be a little on the hammy side at times.
Nevertheless, the dialogue does an excellent job of shaping and pacing the narrative. Visually and aesthetically, the game is stunning, yet dated. Fortunately, the carefully crafted intrigue, smart dialogue and characters, and overall enjoyable gameplay help carry this classic.
The Takeaway: Even if you didn't spend your tender years with Full Throttle and Fate of Atlantis, Revolution Software's great port of an excellent game is definitely worth your while.
[Folahan Olowoyeye is a contributor to Macworld.com]