iPhoto once again took a co-starring role in the latest iLife update along with iMovie and GarageBand. Unlike the groundbreaking iPhoto '09, which introduced Faces, Places, and social networking connectivity, iPhoto '11 is more of a reflection of Apple's desire to integrate iOS innovations into Mac OS X applications and refine the user experience. That doesn't mean that iPhoto's changes are lightweight, by any means. But overall, new features can be categorized as polishing rather than as breakthroughs.
Under the hood, for example, Apple now uses Core Animation throughout the app. You'll notice this upgrade in performance throughout iPhoto, for example in the smoother scrubbing through Event windows. iPhoto '11 is also gesture-aware, providing two-finger scrolling on a laptop and 3-finger photo-to-photo browsing. Gestures also work on the Magic Mouse.
But how the application looks is what really jumps out at you when you first launch it. And the most impressive interface change is Full Screen Mode.
Get the big picture with Full Screen mode
The new Full Screen Mode is a perfect example of iPhoto's UI fine-tuning. In iPhoto '09 ( ), Option-Command-F displayed a single image in Full Screen Mode. Now, your entire workspace can occupy every pixel on the display. Combined with the other cosmetic modifications, such as the buttons, Full Screen mode almost feels like you're working on a big iPad instead of a traditional Mac. Again, consistent with the theme of bringing what's been learned during iPhone and iPad development back to the computer.
Once you've entered this mode, working with it is fairly intuitive. Arrow keys move you from one thumbnail to the next. Double-clicking on an image enlarges it to dominate the display, with the other thumbnails lined up neatly at the bottom of the screen. Navigation remains at the top, and a handful of tools are parked at the bottom. While browsing your thumbnails, you can easily change gears into slideshow mode by clicking on the Play button at the bottom of the interface. There are some new slideshow themes too, including Origami, Reflections, Photo Mobile, Holiday Mobile, Vintage Prints, and Places. Overall, however, the slideshow controls remain similar as before.
To exit Full Screen Mode at any time and return to the traditional interface, click the Full Screen icon in the lower left corner, press Option-Command-F, or hit the Escape key.
Subtle design and tool changes

Even though Full Screen Mode is the most notable UI change, there are visual refinements throughout the entire application. The toolbar at the bottom of the iPhoto window is more streamlined with sophisticated charcoal gray icons. And areas such as Book, Card, Albums, and Places also received nice facelifts—not to mention the new Projects bookshelf, which is beautiful. Other functions, such as editing and displaying meta information have also changed appearance in both views. If you want to see image metadata, click on the info button (i). The thumbnails slide to the left allowing an information panel to appear on the right. Note that you no longer have the additional Extended Photo Info pane as before.
Image editing behaves much the same as it did in iPhoto '09. Hit the Edit button to reveal a panel with three tabs: Quick Fixes, Effects, and Adjust. The editing controls themselves remain virtually the same, but the interface is more appealing.
You do get a few more goodies in the Effects tab. There are six icons at the top of the pane: Lighten, Darken Contrast, Warmer, Cooler, and Saturate. They don't replace any of the slider controls in the Adjust pane, rather they are placed here for convenience.
Speaking of the Adjust tab, there are no new sliders, unfortunately. But three buttons from iPhoto '09 are no longer there: Reset, Copy, and Paste. Reset seems to be gone all together, but Copy and Paste Adjustments have been relocated to the Edit menu that's only visible in traditional viewing mode. In both modes, they can also be accessed from the contextual menu that pops-up when you right- or control-click on your image; or via their keyboard shortcuts: Option-Command-C (copy adjustments) and Option-Command-V (paste adjustments).
Snazzy e-mail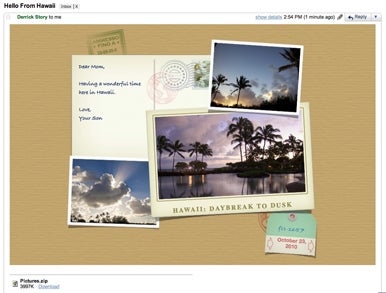 A number of adjustments were made to iPhoto's output options, and the most radical among them are the new designs for sharing pictures via e-mail. Instead of the traditional attachments that you've been accustomed to, you must now choose from eight templates: Snapshots, Corkboard, Cardstock, Announcement, Celebration, Collage, Letterpress, and Postcard. When the recipient opens the e-mail, they are greeted with your photos integrated into the selected design. You have the option to additionally attach the images (optimized or actual size) in a zipped archive. Essentially, your entire iPhoto library is now source material for your own electronic greeting card factory.
There are tradeoffs, however, for this new feature. The new templates limit the number of photos you can attach to 10. There is also a limit to how much type you can include, depending on the particular template. And you only have two file size options for attached photos: optimized or actual.
Keep in mind that you can work around these changes if you want. For example, if you want to send 15 photos, select their thumbnails in iPhoto '11 and drag them to the Mail app on the Dock. A new e-mail will appear with the images attached. You can then choose among four file sizes (actual, large, medium, and small) and add as much type as you want. Or you can go the other way: open the Mail app, click on the New Message button, then click on the Photo Browser button. Your entire iPhoto library is available to you for attachments. Simply drag the images you want from the browser to the e-mail, and those images will be included in your message.
Speaking of e-mail, if you use a different service than the Mail app, you can add it in the new Accounts tab in iPhoto '11's Preferences (iPhoto -> Preferences -> Accounts). Click on the "+" icon in the lower left corner, choose "Email" from Add Account, click the Add button, and choose from Hotmail, Yahoo, Gmail, or AOL. If you have a different service, click on "Other" to add it.
Better Facebook, Flickr, and MobileMe integration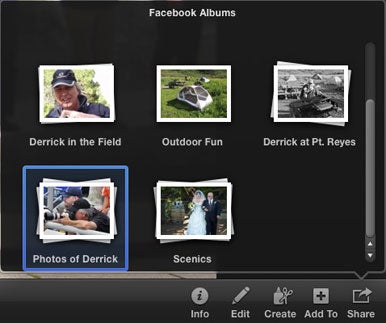 iPhoto '09 brought us direct connectivity with Facebook and Flickr, but iPhoto '11 makes it usable. Now you can directly upload an iPhoto image to an existing album or set, in addition to creating a new grouping altogether. For Facebook, you can also update your profile picture directly from iPhoto, and even tag people. Since iPhoto is actually synced to the images you upload from the application to the online site, changes you make in iPhoto will be reflected in Facebook (and Flickr too). If you try to delete a Facebook picture that wasn't originally uploaded from iPhoto, you'll be strongly urged to copy the image to iPhoto so you don't lose it all together.
MobileMe receives a similar makeover as the other two, so regardless of which site you're managing, the online networking interface in iPhoto is essentially the same.
Books and Cards look pretty good too
The new interface for designing books is flat out beautiful. To start designing, select a group of photos and choose Book from the Create flyout menu at the bottom of iPhoto's interface. The next screen lets you choose your theme with great looking examples for each option. Once you've decided the type of book you want to design, click the Create button to get started.
iPhoto autoflows the images into the theme you've chosen. Its first attempt should look pretty good, and for good reason. The code base for the Book tool has been completely rewritten with some fun new touches. Your key photo for the album becomes the cover; Face Detection is used for proper framing of people shots; and photos within a timeframe are grouped together. If you want to tweak individual pages, add text, or move things around, click on the Design button in the lower right corner to open the full design editor.
The design tools are easy to use. And once again, working in Full Screen Mode is fun. And even if you don't want to upload your creation to Apple for purchasing, you can output individual pages to PDF or a printer via the Print command. This means that you have a powerful layout program built right into iPhoto. The possibilities are truly endless.
The Card tool works essentially the same. iPhoto '11 adds Letterpress cards to the theme options, which means your images can now be printed on high quality paper with debossed designs. The previous standard card options are also available.
Macworld's buying advice
If you have an Intel Mac running Snow Leopard, the $49 iLife Upgrade may be worth the price for iPhoto '11 alone. The improved code and polished UI certainly improve the overall experience. But before you plunk down your money, spend some time looking at the new features such as Full Screen Mode, e-mail attachments, and the user interface in general. If these don't appeal to you, then the added benefits of improved Facebook and Flickr integration, Letterpress cards, and the redesigned book making tool may not be enough to warrant an upgrade.
[Senior Contributor Derrick Story teaches iPhoto on Lynda.com and runs a virtual camera club at thedigitalstory.com.]