At a Glance
Expert's Rating
Pros
Smallest Mac laptop ever
Speedy solid-state drive
Bright, high-resolution screen
Full-sized keyboard
Cons
Slow processor clock speed
Small drive space
No keyboard backlighting
Our Verdict
You can forgive Steve Jobs for a bit of hyperbole when he's on stage introducing new products to an audience of thousands of people following along via a live video stream and countless liveblogs. "It's like nothing we've ever created before," Jobs said when introducing the new MacBook Air. "We think it's the future of notebooks."
Jobs is certainly dead-on when he suggests that the future of notebooks is in ever-slimmer, lighter laptops featuring flash storage. But is the new MacBook Air like nothing Apple has created before? Not really. The 13.3-inch model is basically an improved version of the previous MacBook Air ( ), albeit at a better price.
The new 11.6-inch MacBook Air, on the other hand, is the smallest and lightest Apple laptop of all time, and its base price of $999 ties it with the plastic MacBook ( ) as the cheapest Mac laptop available. I'm not sure I'd call it unlike anything Apple's created before—it's got all the stylings of the MacBook Air and MacBook Pro lines, but is tiny like the legendary 12-inch PowerBook of old—but it might be the most novel new Mac released since the Intel Mac era began.
Common bonds
The 11-inch and 13-inch MacBook Air models have a lot in common. They keep their displays in a rigid aluminum shell with an aluminum bezel around a LED-backlit glossy screen. (Unlike the MacBook Pro models, which feature a single slab of glass across the entire front of the display, the MacBook Air continues to feature an ultra-thin glass layer located behind the bezel. In my experience, displays with this approach are less prone to cause glare than screens such as those on the MacBook Pro models.) Like every other Mac laptop, there's a tiny Webcam located immediately above the display. (In some press materials Apple refers to this camera, once called iSight, as a "FaceTime camera," though in System Preferences it's still called an iSight.)
The display piece of the laptop is extremely thin, but the aluminum shell means it's fairly rigid. Certainly it doesn't feel fragile or flimsy. And a new hinge design means you can now open the display at a wider angle than previous Airs.
The bottom half makes up the bulk of the laptop, and this is where Apple definitely made some changes compared to earlier MacBook Airs. The older Airs had curved edges all around, a choice that forced the design of a drop-down door to expose the laptop's headphone, display, and USB ports. These new Airs have flat sides and a slightly curved bottom. The result is that when you pick one up, it feels a bit chunkier than the older models, even though it's really not.
By trading off that illusion of extra thinness, Apple gets to ditch the drop-down door and station ports right on the sides of the laptops. On the left side, there's a MagSafe connector, USB 2.0 port, headphone jack, and a built-in microphone. On the right, there's a Mini DisplayPort, another USB 2.0 port, and (on the 13-inch model only) an SD card slot.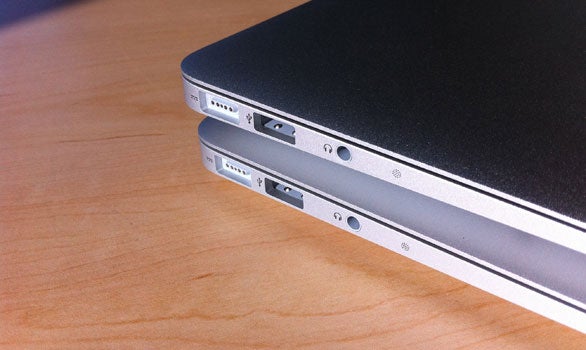 The second USB port addresses one of the previous Air models' major shortcomings: its single USB port could get crowded in a hurry, especially if you needed to perform a task with two separate USB devices at once and forgot to bring a hub along. (In addition to the continued lack of FireWire support on these models, they also continue to lack an Ethernet port. Apple does offer a $29 USB Ethernet Adapter if you need to get on a wired network. And of course, the Air doesn't come with any optical drive.)
These small laptops can drive large displays via that Mini DisplayPort, at resolutions up to 2560 by 1600—meaning they'll even drive Apple's 27-inch LED Cinema Display. (The Apple display's included MagSafe and Mini DisplayPort cables will stretch to reach those ports, which are situated on opposite sides of the MacBook Air—but just barely.) Both models are driven by a nVidia GeForce 320M graphics processor (the same one used in the 13-inch MacBook Pro), and it's a nice step up from the nVidia GeForce 9400 used in previous Airs; the new models showed off much improved graphics performance compared to their predecessors.
One nice touch for users upgrading from a past MacBook Air model: if you've got a set of iPhone-compatible headphones with an inline microphone and remote, this generation of Airs will let you use that mic for audio input, and you can even use the button(s) for controlling music playback.
Though many small laptops in the PC world feature shrunken-down keyboards that deviate from the standard keyboard layout in unpleasant ways, Apple has refused to compromise on this point—even on the 11-inch MacBook Air. Both models sport the same full-sized keyboard that Apple uses in all its other laptops, not to mention its USB and wireless external keyboards. The only real difference is on the top row of keys: they're shorter than on the other keyboards, and the power button now appears as the rightmost key in that row. Typing on the keyboard feels exactly as it does on all those other keyboards, too; the thinness of the Air doesn't mean there's any less key travel. If you like typing on a MacBook keyboard (or Apple's external keyboards), you'll like typing on the MacBook Air.
One place where this new set of MacBooks regresses from the previous generation: keyboard backlighting is gone. I never considered keyboard backlighting an essential feature—I do know where all the keys are. Like heated seats in a car, it's a feature that was occasionally useful and felt vaguely luxurious, and I'll miss it. Also gone are the sleep light and the infrared port.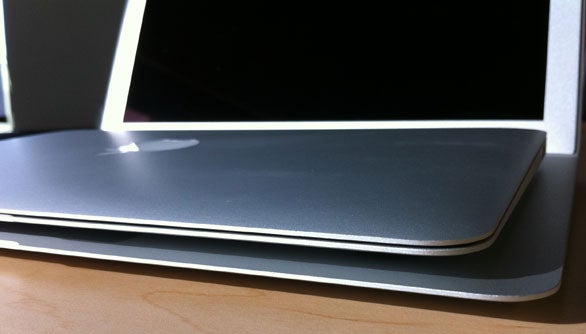 On the positive side, though, the Airs have finally inherited the same glass-trackpad technology that was added to the MacBook Pro two years ago. It looks, feels, and works just like you'd expect. Though the Air is only .11 inches thick at the same edge that contains the trackpad, the trackpad still depresses with a satisfying click. (The trackpad on the 11-inch model is slightly less tall, but otherwise the two trackpads are identical.)
Finally, one of the lamest features of the MacBook Air was its single mono speaker stuck under the right side of the keyboard. Good news, everyone: The new Air has stereo speakers nestled under the left and right sides of the keyboard. They're never going to win any awards, but they sound vastly better than the old model.
Flash storage, for sure
The original MacBook Air was the first Mac system to be sold with a flash-storage drive as an optional component, and in these new models all storage takes place on flash storage. In case you're not familiar with the concept, flash storage is a hard-drive replacement that stores data on fixed memory chips (just like the iPhone, iPad and all iPods except the classic) instead of on spinning platters (like most of the computers out there today).
Flash storage has several advantages over hard drives. They tend to be faster than hard drives, especially at reading data. (Though performance can vary widely, the flash storage on these new MacBook Air models was way faster than the poky 4200-rpm hard drives on the prior generation of MacBook Air.) Because they've got no moving parts, there's little risk that dropping your laptop will cause physical damage to flash storage—a real concern when it comes to a spinning hard drive. Flash-storage drives can use less power, extending battery life. They are silent. And despite the amazing miniaturization that's gone on in the hard-drive market, flash storage takes up a whole lot less space than a hard drive. (At least, it does if it hasn't been inserted into a traditional hard-drive enclosure—a backward-compatibility trick Apple had to do with the previous version of the Air, but has avoided with this revision.)
There are also some disadvantages to flash storage. It's more expensive than traditional hard drives, though prices are falling rapidly. There are also questions about ongoing performance of flash storage—depending on the type of flash storage you use, you could find that after several months of heavy use it's dramatically slower than it was when you bought it.
In any event, if you get a new MacBook Air you'll be getting it with flash storage. Because of the expense of solid-state technology, the disk capacities for these systems are much lower than they'd be in a bigger system with a spinning hard drive. The $999 base-model 11-inch MacBook Air is the most extreme of these: it comes with 64GB of flash storage. (It's a $200 upgrade to move up to 128GB.) The 13-inch models come in 128GB and 256GB flash-storage configurations.
At 128GB and certainly at 256GB, you'll find the MacBook Air's storage space perfectly acceptable, especially if you're only using these systems as a secondary computer. (If you're planning on editing HD video on them, I suspect the lack of storage space will be no more of a problem than the slow clock speed of the Core 2 Duo processor.) The 64GB model, on the other hand, will be a tight fit. You can do it, but you'll need to carefully pick which apps you want to install and make good use of file servers, or just embrace shuttling files on and off it via a syncing service such as Dropbox. Also, I'd suggest you keep your music collection on a server or just use the music in that iPod or iPhone in your pocket, rather than loading big media files on such a tiny drive.
The 13-inch model
The new 13-inch MacBook Air isn't a radical departure from the previous-generation Air, which was itself a surprisingly thin and light laptop compared to Apple's other MacBook and MacBook Pro models. The new Air is almost imperceptibly thinner (0.05 inches thinner at its thinnest point, 0.08 inches thinner at its thickest), has exactly the same width and depth, and weighs just 40 grams (1.4 ounces) less. The keyboard's the same, and while the glass trackpad is new, it takes up the same space as the old Air's trackpad-and-button combo.
Beyond the physical changes to the case, the extra USB port, and the upgraded video processor, perhaps the biggest hardware change to the 13-inch Air from the previous model is the screen itself: the old model was 1280 by 800 pixels, while the new one is 1440 by 900 pixels—all in the same physical space. The result is that everything looks a little bit smaller, but you've got more room for stuff on the screen. I found that after a few minutes using the new display, I was used to the change in resolution, though I did increase the default font size in a few of my apps just to take it easy on my eyes.
From a financial perspective, the 13-inch Air is a much better deal than any previous MacBook Air model. The base model, priced at $1299, features a 1.86GHz Intel Core 2 Duo processor and 128GB of flash storage. That's $200 less than the previous base-model Air, where $1499 got you the same processor, a 120GB physical hard drive, and inferior graphics performance. The stock high-end model, with the same specs as the low-end model save 256GB of flash storage, is similarly $200 less than the previous stock high-end system. (Though that $1799 system came with a 2.13GHz Core 2 Duo processor, it also had only 128GB of flash storage.)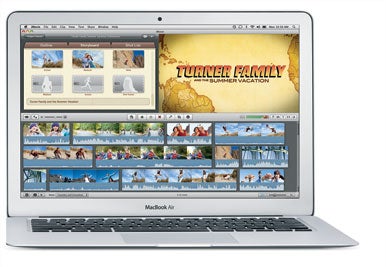 This is not to say that $1599 is all you can spend on the 13-inch MacBook Air. Apple has provided several options for those who want to trick this system out: for $100 you can add a 2.13GHz Core 2 Duo processor (to the high-end configuration only), and either configuration can be upgraded from 2GB to 4GB of RAM for $100. (And you can only make these upgrades when you order the product; none of these features is upgradable after the fact, either by you or your local Apple Genius.) Even with those two additions, at $1799 you'd be getting a majorly upgraded system from the MacBook Air offered by Apple previously.
In our Macworld Lab testing, we found that the 1.86GHz 13-inch MacBook Air was slightly faster overall than a current-model 13-inch 2.4GHz Core 2 Duo MacBook Pro. However, our Speedmark 6.5 score is based on a suite of tests, and the individual tests were all over the map. The Air, powered by its flash storage, excelled on our storage-based tests. Powered by the nVidia GeForce 320M graphics processor, it held its own on graphics-related tests, but our calculation-intensive tests showed the effects of its processor's slower clock speed.
The 13-inch Air also easily outdistanced previous models of MacBook Air, aided by its fast storage and upgraded graphics. Not only is this new MacBook Air the fastest Air ever made, it's roughly comparable in speed to the other two current 13-inch Mac laptop models. That's a first for the MacBook Air product line.
The 11-inch model
I love small Mac laptops. The smaller, the better. That's why I embraced the 12-inch PowerBook in its heyday. But the 11-inch MacBook Air puts even that legendarily small Mac to shame: it trades an inch of depth for an inch of width, weighs in at half the PowerBook's weight, and is a full half-inch thinner than the old paragon of tiny Apple laptops. Yes, there's a new champion of Mac laptop smallness, and it's the 11-inch MacBook Air.
The 11-inch Air is only 11.8 inches wide (a full inch narrower than the 13-inch model), 7.56 inches deep (1.4 inches less deep), and a scant 2.3 pounds (nine ounces lighter). Apple's $999 white MacBook weighs more than twice as much! The original MacBook Air made all the other MacBooks in Apple's product line feel like boat anchors; the 11-inch MacBook Air makes the 13-inch Air feel heavy. It's a little bit crazy.
But while the 11-inch Air is small and light, it doesn't feel cramped. Part of that is due to the high-resolution display, which packs more pixels into its compact 11.6-inch diagonal screen than fit on the screen of that 13-inch white MacBook. Sporting a 16:9 aspect ratio (1366 by 768 pixels), it's a bit wider than most Apple laptop displays, and 768 pixels is the bare minimum number of vertical pixels you'd want in a modern Mac display. However, most modern Mac software has been designed with widescreen aspect ratios in mind—and the extra width of the 16:9 display is what keeps it from not feeling cramped.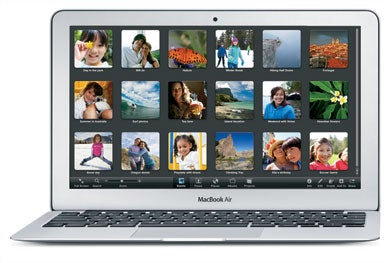 Like the 13-inch Air, the 11-inch model managed to fit a lot of pixels into a small area of physical space, meaning it's got a higher-resolution display than most other MacBooks. (It's actually more comparable to the screen resolution of an iPad.) Because the Mac OS X interface isn't independent of screen resolution, the result is that everything on the MacBook Air's screen seems a little bit smaller than it does on most other Macs. As with using the 13-inch model, I adjusted to the new resolution within a few hours, with the exception of changing a few default font sizes and finding myself pressing Command-plus in Safari a bit more often to increase the size of Web pages.
When the MacBook Air was first introduced in 2008, it was criticized for its high price: $1799 to start, with a $1000(!) 64GB flash storage option. Over the past two years Apple has made some progress in turning the Air into a more affordable computer, but with the 11-inch model the company has made a breakthrough. The base-model 11-inch Air costs $999, the same price as the previous low-price laptop leader, the white MacBook. Granted, for $999 you only get a 1.4GHz Core 2 Duo processor and 64GB or flash storage—but unless you're shopping for a desktop-replacement system that'll do heavy-duty video and audio editing, I'm not sure it matters.
For an extra $200, Apple's offering the 11-inch Air with 128GB of flash storage. While both models can be factory-upgraded from the stock 2GB of RAM to 4GB for $100, only the 128GB model can be upgraded to a 1.6GHz Core 2 Duo for an additional $100. A fully stocked 11-inch MacBook Air— complete with 128GB of flash storage, 4GB of RAM, and a 1.6GHz processor—would cost $1399. Not dirt cheap, but still less than the base model of the last-generation Air. (And yes, for that price you could also get a 13-inch Air with the same RAM and storage and a 1.8 GHz processor—but it would be bigger and heavier than the 11-inch Air, now, wouldn't it?)
Based on our Macworld Lab tests, the 11-inch MacBook Air performs about how you'd expect: It's the slowest currently-shipping Mac laptop, but it's still quite a bit faster than the previous generation of MacBook Air models. That's primarily because of the new nVidia GeForce 320M graphics processor, which makes these systems blow the old Airs out of the water on all our graphics tests. But despite that graphics processor and speedy flash storage, the fact remains that the 11-inch MacBook's processor is a 1.4GHz Core 2 Duo processor, so it's running at a clock speed far below those found on other current Macs.
Now that I've declared the 11-inch MacBook Air the slowest Mac in Apple's product line, let me explain to you why I don't think it matters. If you're using the Web, writing e-mail or articles or novels, and other relatively lightweight tasks, you'll find the MacBook Air plenty fast. I could even run Photoshop CS4 on it, editing relatively lightweight Web-resolution graphics, without much trouble. If you're planning on using it to edit multitrack audio or complex HD video projects, though, you are probably setting yourself up for disappointment.
I tried to watch some video on this model—typically a major MacBook Air bugaboo. I was able to stream an episode of Terriers from Hulu without incident. The episode played without getting all jumpy and dropping frames (a typical symptom of an overheated and struggling MacBook Air in the past). The Air definitely heated up when the video was playing, and its fan kicked in—though honestly, I had to almost place my ear against the back hinge before I could actually hear it. Playing H.264 video was much smoother than I've experienced on prior Air models as well—again, presumably because of the GeForce 320M graphics processor.
11- and 13-inch MacBook Air: Speedmark 6 scores
Batteries and sleep
Apple is making a big deal about saying that these new MacBook Airs have "instant on" technology. What the company is talking about is a new power-saving mode: After a laptop's asleep for a while, it switches into a super power-saving standby mode that lets the battery survive for up to 30 days. But when you open the laptop back up, it doesn't show you a progress bar while it loads stuff—it just snaps back to life. Unfortunately, I couldn't test Apple's claim of 30 days of standby survival, since as of this writing these laptops have only been in our hands for five days.
Apple says that by reducing the space of other components (such as the solid-state drive enclosure) in these models, it's been able to increase the amount of room left for batteries, with the result being improved battery life. Apple claims that the 11-inch Air can last up to five hours when running the company's own "wireless productivity" test suite; its claims for the 13-inch Air are up to seven hours.
Our own tests are more aggressive than Apple's, and are designed to drain the laptop's battery much faster than Apple's. But they do give us a good sense of how much battery power these systems have when compared to the previous-generation MacBook Air. And there's good news on that front: The 11-inch Air lasted for 220 minutes while looping an H.264 movie in full-screen mode at full brightness. The new 13-inch Air lasted 265 minutes. And the 2009-era MacBook Air? It only lasted about 185 minutes.
In real-world use, I found that the 11-inch MacBook's battery definitely felt more long-lasting than the previous-generation Air's. It's probably not powerful enough to last the entire day, but it's going to give you a good, solid run. The 13-inch model, on the other hand, can probably get you through an entire workday if you're judicious with your power usage and put it to sleep when appropriate.
Macworld's buying advice
My original review of the MacBook Air ended with a simple question: "How much are you willing to compromise?" While it's still true that a small, light laptop will require some degree of compromise on both speed and price, over time Apple has made those compromises much less painful.
It feels like, with these new 11- and 13-inch laptops, the MacBook Air product line has finally come of age. The 13-inch model addresses many of the old Air's weaknesses (graphics performance, battery life) and offers speeds that aren't far off the standard of the MacBook Pro line. And yet the 13-inch MacBook Air weighs 1.6 pounds less than what the 13-inch MacBook Pro weighs. Yes, the MacBook Air still costs more and does less than other 13-inch Apple laptops; if weight and size are not important considerations for you, you shouldn't buy a MacBook Air. But if, all other things being (roughly) equal, you'd prefer a lighter laptop, the MacBook Air deserves your serious consideration.
There's no previous-generation analog to compare the 11-inch MacBook Air against; it's a completely new kind of Mac laptop, the smallest the company has ever built. But the high resolution of the 11.6-inch screen keeps it from feeling cramped, the full-sized keyboard is comfortable, and its slower processor is offset by its speedy solid-state drive and good integrated graphics processor.
People seeking a small, light system for writing and e-mail will find the $999 base model irresistible. Those who want to upgrade its drive, processor, and RAM will want to consider its small size versus the slightly larger 13-inch model, which comes equipped with a better set of specs. But while the 13-inch model is just as light and thin as the MacBook Air has ever been, it looks like a hog in comparison to the 11-inch model.
The MacBook Air product line still isn't for everyone. But those who value smallness and lightness above all else will find the 13-inch model more tempting than ever. And that 11-inch dynamo, the smallest and lightest laptop in Apple history, the one with the $999 price tag? It's quite possibly the most desirable laptop Apple has ever made.
The release of the iPad made me wonder if I'd consider a Mac laptop as my constant traveling companion ever again; the release of the 11-inch MacBook Air proves that there's still plenty of life left in the Mac after all.
[Jason Snell is Macworld's editorial director.]