Just in time for the holidays and the release of its updated Apple Store iPhone app, Apple has brought its free laser-engraving service to the iPad.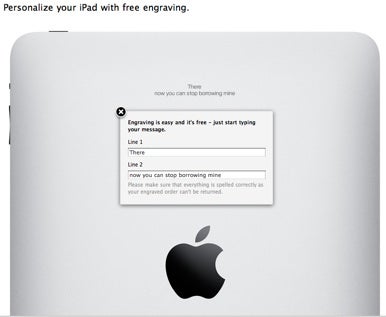 Engraving a message has been a long-time option when buying an iPod from Apple's online store. Now, prospective iPad owners—or generous souls aiming to gift one for the holidays—can partake in the perk with any iPad model, be it the Wi-Fi or Wi-Fi + 3G model.
The inscription can be two lines of 36 characters each, totaling to what we in the industry refer to as "about half a tweet." As with the iPod, Apple places the inscription above the Apple logo on the back of the iPad.
While wait times for shipping the iPad dropped to Apple's typical "within 24 hours" back in August, opting for an engraving will add a slight delay of between one to three days. It's a small price to pay, since engraving is free, but remember: just like the iPod, engraved iPads are yours for life.
iPad (1st generation) Family