Seattle-based online retail giant Amazon.com has introduced a brand-new app for iPad that provides access to all areas of its Website through an interface optimized for Apple's tablet device.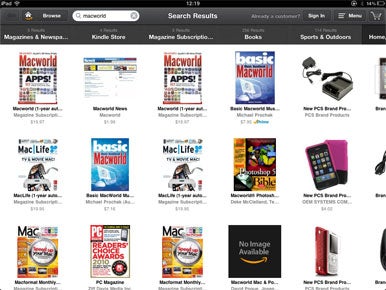 Aptly named Windowshop, the app allows users to view and browse the products sold by Amazon in much the same way as on the company's regular site; for example, you can browse by category and subcategory, view bestseller lists, search by keyword, and so on.
The app's layout, however, has been designed specifically with the iPad in mind; it features a grid view that can be scrolled horizontally to browse categories, and vertically to browse the individual products in them.
Tapping any item pops open the product view, where you can view a zoomable, high-resolution photo of the product, read additional details, browse reviews, and, of course, use your Amazon.com account—including its one-click functionality—to make a purchase.
In addition, Windowshop allows you to add items to your Amazon wishlists, all which can be managed directly from within the app.
Windowshop requires an iPad running iOS 3.2 or higher; the app is available for free from the App Store.
via MacStories