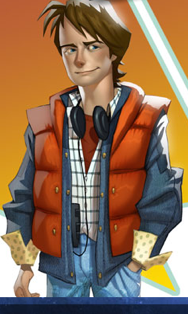 If all you want for Christmas is a time-traveling DeLorean, you might be in luck. Telltale Games has announced that upcoming title Back to the Future: The Game is slated for a December release on Mac and PC, so you'll be able to spend the holidays racing through time even if you don't have a real flux capacitor.
The game picks up shortly after the events of the third Back to the Future film and features the two main characters of the series, Marty McFly and Doc Brown. The story will unfold across five episodes, with new episodes released on a monthly basis.
Details are sparse on the exact nature of the game, but Telltale Games has posted a "making of" video that features interviews with the program and design team, as well as footage of Christopher Lloyd returning to the role of Doc Brown in the recording studio.
The PC and Mac versions of Back to the Future: The Game are now available to pre-order for $25. The pre-order special includes Telltale Game's Puzzle Agent—a $10 value—and for each pre-order, Telltale Games will donate $1 to the Michael J. Fox Foundation for Parkinson's Research. Release dates for upcoming PlayStation 3 and iPad versions of the game will be announced at a later date.
Back to the Future: The Game