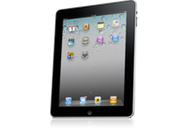 We can all agree that cell phones should have devoted mute buttons. We frequently encounter situations—meetings, movie theaters, putting the kids to bed—where our phones' beeps and boops must be silenced, and quickly. That's why it makes perfect sense for the iPhone to have its Ring/silent toggle switch.
When the iPad was introduced, what had at one point been described as a similar mute switch was repurposed as an orientation lock switch instead. That seemed to make sense, too. While the iPhone, as a cell phone at heart, needed that instant ability to be silenced, the iPad fell into a different—and new—category, where the need to suddenly mute was less than paramount.
Early testers of iOS 4.2 for the iPad, however, have discovered that the hardware switch on the iPad now mirrors the functionality of the switch on the iPhone: it mutes the iPad, instead of locking its orientation. To lock your iPad's orientation when running iOS 4.2, you'll need to use the same combination of maneuvers you use on iPhones running iOS 4 and up: double-tap the Home button, swipe the multitasking bar to the right, and then tap the software orientation lock button.
It would seem that Apple is standardizing the behavior of hardware switches across iOS devices. That's at least an understandable approach. But, to me, changing the functionality of the iPad's hardware switch makes little sense, for a variety of reasons.
1. The iPad already has a mute switch.
Press and hold the Volume Down button on your iPad and it mutes in less than a second. I use this option at least once a day, since my personal bedtime routine includes muting my iPad before placing it on my nightstand. I've never once begrudged this hardware approach to muting or found it too slow. In fact, the control itself is intuitive enough that most new iPad owners seem to discover it for themselves: the first time you want to put the volume down in a hurry, the instinct is to hold that button down, and the exact desired result occurs.
2. The iPad is a very different device from the iPhone.
I've already made the case that a mute switch makes sense on a cell phone. There's a similarly compelling case that orientation locks are necessary on a tablet. I hold my iPad every which way when I'm using it to read—whether I'm perusing an e-book, a Web page, RSS feeds, Twitter, or a virtual newspaper.
When it comes right down to it, I hold my iPad in far more bizarre positions than I hold my iPhone. Sometimes it's flat on my lap, sometimes it's held over my head as I read in bed. In every one of those situations, it's become second-nature to me to flip that orientation lock switch to avoid the dreaded iPad Screen Dance that every iPad owner has encountered. Given the frequency with which iPad owners benefit from orientation-locking, quicker access to the feature is better, and the hardware switch is far faster than the double-tap, swipe, tap software approach. To be honest, I almost never lock my iPhone's orientation because I find locking it (and unlocking it again) annoying.
3. The consistency argument is flawed.
If Apple's argument is that the improved consistency is a greater benefit to customers overall, that's flawed logic. It would be one artificial consistency between two devices which—while obviously very similar in numerous ways—still sport a host of differences between them.
For example, the iPad's volume controls and switch are on the right; the iPhone's are on the left. The iPad can work upside down, with the Home button on top; the iPhone can't. The iPad's multitasking shelf on iOS 4.2—where you'll need to access the software orientation lock—can appear in both portrait and landscape modes; on the iPhone, that bar is limited to portrait mode. An iPad can be locked so that it remains in portrait or landscape mode; iPhones can lock only in portrait. And, of course, the keyboard layouts between the two devices different in several ways—ways which, at least initially, can be confusing if you're already acquainted with the other iOS device's approach.
And let's not forget the the third member of the family: the iPod touch doesn't even have a hardware switch. Aiming to completely standardize iOS devices's hardware behavior is arguably counterintuitive, given how much variation already exists between the devices. But like the other differences, it's one that you can master rather quickly.
4. Orientation, like failure, is not an option. But it should be.
Steve Jobs allegedly told one iPad owner that the iPad would offer no preference to control the hardware switch's behavior. I hate preference overload as much as the next guy—unless the next guy is Steve Jobs, who seems to hate it a whole lot more—but this is an option that's theoretically in keeping with other iOS settings. For example, the Accessibility controls let you choose the behavior that occurs when you triple-tap an iOS device's home button.
Then again, there is precedent for Apple here: in iOS 4, the company changed the behavior for double-tapping the Home button. On devices that support multitasking, the double tap can only bring up the multitasking bar. Earlier versions of iOS let you define what happened when you double-tapped (iPhones that don't support multitasking still do). Many iPhone users—myself included—chose to link the double-tap action to launching the Camera app. But when Apple introduced multitasking, the company didn't offer a way for customers to restore the old double-tap functionality.
In that case, though, I think Apple was mostly right. Multitasking fundamentally changes the way you use an iOS device. (That's one reason why we're all so excited at the prospect of iOS 4.2 for the iPad.) Forcing acceptance of multitasking was a smart long-term move on Apple's part. Muting, however, presents no such fundamental shift. Not offering a preference for the hardware switch's behavior doesn't support any obvious long-term iOS behavioral change that Apple's attempting to instigate; rather, it feels like a more punitive, "we know what's best for you" change.
So, what can we do?
I think the answer is simple: complain. I'd argue that the loss of the hardware orientation lock certainly degrades my iPad experience. Perhaps the device is no less powerful or fun to use, but a bit of what Apple might call its "magical" sheen has worn off. Some iOS users may well disagree with my preference for the iPad's hardware switch—many of them vehemently, I suspect—which is fair. But it also means that this is the perfect situation for Apple to suck it up and make this a setting in iOS 4.2 and above.
iPad (1st generation) Family