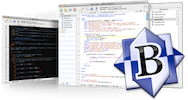 Bare Bones Software's BBEdit, the programmer's text editor that doesn't suck (according to the company's corporate motto), has been upgraded to version 9.6. According to the official change notes, BBEdit 9.6 was extensively revised under the hood, albeit in ways that will not necessarily be obvious to many end users.
New features in the update include syntax recognition for HTML5 entities, allowing for improved performance when working with the latest Web markup. BBEdit also revised tools for converting HTML to text and back again, breaking a single menu item into two separate commands that are easier to use. Syntax-specific editing of CSS and XML documents has also been improved, with better colorization of entities and autocompletion rules. The highly scriptable application now recognizes Automator workflows in its Scripts folder, and adds an "instaproject" feature to its command-line interface.
Under the hood, BBEdit no longer supports BBXT plug-ins—a technology introduced during the Clinton administration—and abandons automatic import of Grep patterns written before BBEdit version 8.0. On the other hand, very large files are now handled with more aplomb, with better speed and performance on text manipulation throughout these documents.
Finally, Bare Bones retains its…unique sense of humor, with notes such as: "The ponies are fully geared and anxiously awaiting the release of Cataclysm." (Longtime readers of BBEdit's change logs will recall the ponies' introduction in the release notes for BBEdit 9.0, with upgrades to their capabilities in subsequent versions.)
BBEdit 9.6 is a free upgrade for all owners of 9.0 or higher, or $30 for owners of earlier versions; the new purchase price is $125, or $49 for educational users. BBEdit requires Leopard 10.5 or Snow Leopard 10.6.