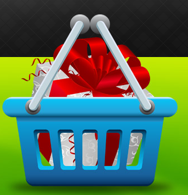 It wouldn't be a proper holiday season without some jolly Mac software giveaways and sweet bundled deals to help get everybody in a festive spirit. Fortunately, MacBasket is stepping to the plate with both a giveaway contest and a recession-busting Mac bundle to boot.
MacBasket's Pre-Christmas Bundle Sale will launch November 1, and to celebrate the occasion, the company is giving away a bundle to one lucky person. To enter the contest, just follow @Greezim on Twitter and retweet the current tweet. You can also visit the MacBasket Website and click the "tweet" button. The winner of the giveaway will be notified October 28th.
MacBasket's Pre-Christmas Bundle Sale will offer ten Mac apps with a combined worth of $300 for just $49. As is normally the case with app bundles, MacBasket's sale will be short lived, lasting only 14 days. Details about what apps will be included in the bundle will be announced shortly.