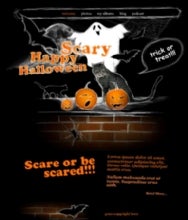 If you're tired of reading about the current onslaught of way-too-early holiday promotions, I'm afraid this is not the post for you. iPresentee has released iWeb Themes 10 – Holiday Bundle, a set of 25 holiday intro themes for iWeb, to help get your site looking good for the holiday season. Along with Halloween and Christmas themes, iWeb Themes 10 also includes themes for New Year, Valentine's Day, and Easter.
The iWeb Themes 10 Holiday Bundle is aimed for iWeb users looking to post fun holiday-related greetings, events, and messages on their iWeb site.
Rather than rely on a single static image, iPresentee's themes incorporate a series of layered images that can be edited, replaced, or removed, making it easier to customize the themes as you see fit. All of iPresentee's themes also incorporate an endless background, so you won't need to worry as much about sizing and display issues.
You can purchase iWeb Theme 10 and get all 25 themes for $25, or you can purchase individual iWeb holiday themes for $7 a piece. iWeb Themes 10 requires Mac OS X 10.4.3 or later, iWeb 2.0 (iLife '08) or iWeb 3.0 (iLife '09 or iLife '11).