Halloween's only a few days away. So it's time to get ready with some Halloween-themed iOS apps! In this collection, we're looking at ways to prepare for the holiday—whether it's carving a pumpkin, picking a costume, or sending an e-card.
Creepy Costume Pickers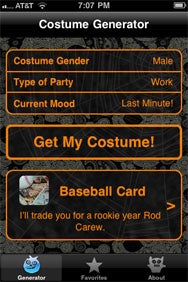 Halloween Costume Generator: We looked at this $1 app from Synthetic Bits in last year's round-up of Halloween apps. The interface is darker and spookier this time around, and a few of the costume descriptions have been updated, but the basic premise of Halloween Costume Generator remains unchanged. You pick the gender, type of party, and current mood and tap a button; after some creaky sound effects, the app will produce a random costume idea, complete with links to Google Images of your potential costume as well as an appropriate song in the iTunes Store. While there's a "Kids Party" option in the Type of Party field, the suggestions seem largely geared toward older revelers, but there's a pleasant playfulness that keeps this app on our list of Halloween favorites.—Philip Michaels
CostumeDecider: For those who arrive at the Halloween outlet store each fall to pick out something short, expensive, and foamy, costumes are a no-brainer. For the rest of us, coming by something creative and unique just got a little easier, thanks to GS Design's free app. This simple tool has two wheels, each with different costume ideas that can be combined to form outfits so original, chances are nobody's ever dreamed of it (Vulcan Nun, anyone?). If nothing else, these ideas are interesting, and with possible combinations like Disco Leper and Zombie Barbie, users of this app are bound to get a lot of attention come the 31st.—Stephanie Kent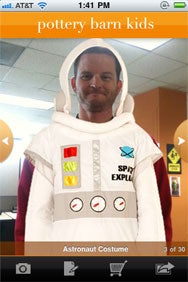 Pottery Barn Kids Costume Finder: It can be stressful shopping for costumes, especially for parents with small children. Fortunately, Williams-Sonoma has brought costumes right to the iPhone with this free Pottery Barn Kids guide. Snap a photo of your child, and then browse costumes by age group (baby, toddler, or kid) by sliding them across the scene, over the photo to see which choice is the best fit. After deciding upon one of the seemingly well-made, adorable costumes, tap the shopping cart icon and you'll be brought right to Pottery Barn Kids' Website to order the item. Pottery Barn Kids seemed to have realized that most app users could have a difficult time choosing just one of the costumes. Luckily, a snapshot of the child dressed as a lion, lady bug, or astronaut can be saved to the phone, e-mailed, or sent directly to Facebook.—Stephanie Kent
Petrifying Pumpkin Carvers
Parents Carve-A-Pumpkin: This $1 pumpkin-decorating app from Resolute Digital doesn't come with games, costume ideas, or any secondary Halloween activities. Rather, the only activity within Carve-a-Pumpkin involves pumpkin decorating. To start, users pick from an assortment of pumpkin colors and sizes. From there, the vegetable can be decorated with Halloween-themed stickers or carvings. While a free hand option is available, I opted for the pre-made face stencils that did all the heavy lifting for me. Once you've finished decorating your gourd, you can save, e-mail, or tweet a snapshot of the art with the touch of a button. The activity is a little monotonous, but for those still of trick-or-treating age, this is a solid seasonal app.—Stephanie Kent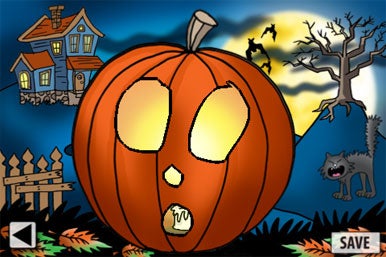 Carve It: A $1 app from ABCya.com, Carve it comes with a bevy of Halloween activities besides just decorating virtual pumpkins. To begin, users choose a costumed character to play as. From there, they are free to carve pumpkins, visit their pumpkin patch of carved Jack-o-Lanterns, or play a round of the strangely addictive, yet simple Pumpkin Bungee game, in which pumpkins are slung upward in an attempt to knock down the sea of coins floating overhead. While Carve It offers more within the app, the pumpkin carving isn't as polished, visually, as Parents Carve-A-Pumpkin. It also provides fewer options for decorating the vegetable, but the added costume choosing and game components ultimately make this a fun app worthy of purchase for Halloween.—Stephanie Kent
Scary Salutations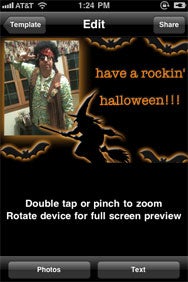 Halloween C@rds: While Halloween isn't traditionally a greeting card holiday, Hot Chilli Apps has provided iPhone users with one more way to get into the spirit of the season. With Halloween C@rds, users can create a greeting card using a variety of backgrounds, text, and personal photos to spread some love (or fright). Although I found the end product of this app satisfactory, it's a little hard to navigate. Your finished products can be shared on Tumblr, Facebook, Twitter, and, of course, via e-mail.
Halloween Postage: The Fright Night-specific version of RogueSheep's virtual postcard creator is back this year with three new designs. As you'd expect from RogueSheep, this $1 app makes it fun and easy to place your photos in the Postage templates, but consider this pro tip—pay up for the $2 full version of Postage. You'll get the same templates as the Halloween edition of the app, plus dozens of other designs for the other 11 months of the year.—Philip Michaels